During the 18 month project, The Yield and Yamaha will negotiate commercial arrangements to bring a joint solution for intensive irrigated crops to international markets in early 2023. "We are currently working on our go-to-market strategy", Ros Harvey, Founder and Managing Director of The Yield says. "We will update the market in due course."
Visual data collection
Improved harvest prediction accuracy can be achieved by gathering growth stage data through visual data collection. Ms Harvey says that visual observation of the vines at any point during a season can tell a grower a great amount about the plant's performance and the volume and quality of its expected output come harvest time.
Yamaha's robots will passively collect visual data which can be used as inputs into the AI models of The Yield. "This is much more cost-effective than growers collecting visual data – for example flower and bud counts and growth stage records – or paying for scanning of crops. The visual data are a by-product of the robot doing its day job", Ms Harvey says.
Visual data acts as an additional data feature set in the predictive models of The Yield, which improves accuracy. "For both growers and the project, visual analytics will increase quantity and frequency of visual observations, digitise them for consumption by data models, and overall make more efficient use of the information", Ms Harvey points out.
Text continues underneath video
Autonomous crop spraying
The Yield will also work on autonomous crop spraying with the use of robots. "We know from customers in Australia that we can double the effective spray windows for robots using our patented microclimate and growth stage predictions" Ms Harvey says. "This improves robotic spray efficiency and effectiveness whilst improving environmental performance."
Spraying at the right time makes sprays more effective and reduces unnecessary run-off
Ms Harvey emphasises that spray chemicals, spray machinery and labour are a limited and costly resource for farm managers. "Spray effectiveness analytics driven by weather provide growers with granular information on when and how to best utilise these limited resources to get the best outcome for their crop. Spraying at the right time makes sprays more effective and reduces unnecessary run-off. This is good for growers and for the planet."
Yamaha robots to automate and digitise farming practices
The trial will commence in the Australian vineyards later this year and in the West Coast of the U.S. starting early next year. It will bring together Yamaha's robotics platform with The Yield's microclimate, software, analytics, and AI platform. The robots will be rolled out over time to automate and digitise common farming practices, beginning with spraying fungicides and pesticides.
Accelerated demand for robotics
Ms Harvey sees an accelerated demand for robotics globally, particularly in intensive irrigated crops. "This trend is likely to grow", she says. "Our secret sauce is our platform technology that drives our AI models. We see the future as linking our AI platform with robotics platforms to both make robots more efficient and effective as well as passively collecting data to improve our models. In the future our digital playbooks will dynamically adjust autonomous farm systems to achieve growers' business objectives based on our AI predictive modelling. It is a continuous feedback loop."
Ms Harvey expects a symbiotic relationship between analytics and robotics as the future for intensive irrigated crops. "For the future of the planet, we need to sustainably intensify food production and bring it closer to population centres. This is very important for reducing carbon footprints, reducing input use such as chemicals and water, and protecting biodiversity."
According to Ms Harvey there is already a revolution happening in growing intensive irrigated crops. "More and more crops are being grown more densely, in substrate, under hoops, polytunnels, in glasshouses and we see the emergence of vertical farming. This allows us to produce more with less by being more precise. It's also an environment that is great for robotics – reducing labour costs and reducing exposure of workers to challenging physical work. It is a win-win."
Microclimate prediction a gamechanger
According to Ms Harvey The Yield's microclimate prediction technology is perfectly suited to this intensification process. "Instead of using traditional gridded weather predictions, we can predict right down at the plant level and inside canopy and infrastructures like hoops and polytunnels. This is a gamechanger. It is highly localised, cost effective, fast, and responds faster to changing impacts of climate change than traditional models which require super computers to run massive global weather models."
This, Ms Harvey says, will be very important for developing countries that do not have the public meteorology resources to develop localised weather services and rely on the global 25x25km (or 625km2 grid) of the Global Forecasting Service.
Text continues underneath image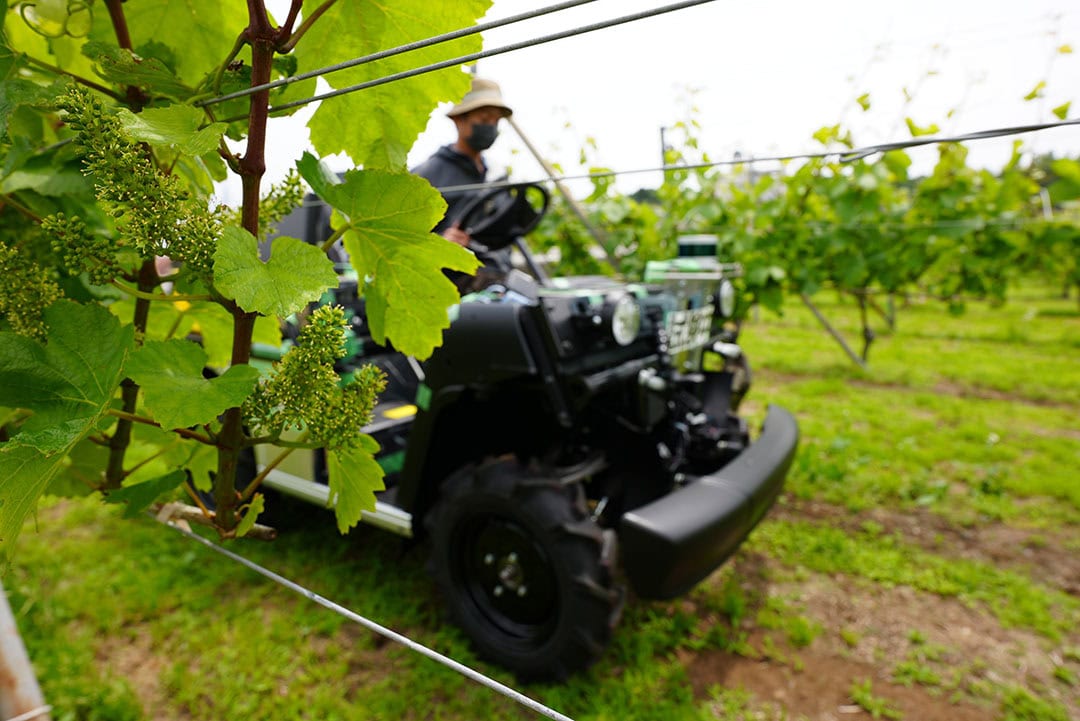 Yamaha data scouting and spraying robots
Yamaha will be focusing on Australia in the coming season and later on projects in the U.S.. The company hasn't made the details of its robots public yet, but Yamaha plans to deploy 2 data scouting robots in Australia and 2 spraying robots in the US. "There is a possibility that they can be integrated in the future", Yamaha says.
Greg Pearce, General Manager Company Vineyards of Treasury Wine Estates (TWE) says that TWE is committed to taking an integrated approach to sustainability to manage risks and make the most of new, emerging opportunities. "This includes investing in new technology and innovations to adapt to the climate trends impacting our business."
Mr Pearce says TWE is proud of its ongoing partnership with The Yield to improve the predictability of weather and climate, crop yield, harvest timing and fruit grading – all critical drivers of wine quality. "This latest industry-leading collaboration brings together our viticulture and winemaking expertise with world class robotics and automation to enable us to better predict optimal harvest opportunities and efficiently irrigate our vineyards."