The 175hp to 348hp (133kW to 260kW) JCB Fastracs are available with fully-integrated ISOBUS, precise JCB GPS guidance and implement control applications that minimise the need for additional displays.
ISOBUS control of rear and front-mounted implements
The new electronics infrastructure on Fastrac iCON tractors caters for optional ISOBUS control of rear and front-mounted implements using a common graphics interface on the 12-inch touch screen, with the auxiliary joystick providing further opportunities for bespoke control allocations.
GPS guidance
A fully-integrated GPS guidance system is available, comprising a Novatel Smart-7 receiver, a steering controller and JCB user interface, with Section Control and Variable Rate Control available as unlock options.
Alternatively, the GPS Ready option prepares the Fastrac for after-market guidance and precision farming solutions.
Operators have the added benefit of JCB Rapid Steer, which reduces the number of steering wheel turns needed for headland and other manoeuvres, and JCB's Twin Steer is available for the four-wheel steer Fastrac 4000 Series tractors, which provides individual axle guidance for ultra-precise implement positioning for high value crops grown in beds.
Text continues below video
iCON armrest console
The Fastrac 4000 and 8000 Series tractors are equipped with the new iCON seat-mounted armrest console and a 12-inch colour touch-screen display that can be positioned ahead of the controls for easy viewing or moved to one side to maximise visibility through the Fastrac's large windscreen.
The console houses a new main joystick; assignable RGB LED colour-coded levers giving proportional control of electrically-operated spool valves; pto and hitch controls; an auxiliary joystick; and hard keys plus an encoder dial for a tactile alternative to using the touch screen.
Hydraulic functions can be allocated freely to the five main joystick buttons and also to a four-way auxiliary joystick with its four buttons and rocker switch, with LED colour backlights identifying which spool valve is allocated to which control.
Text continues below image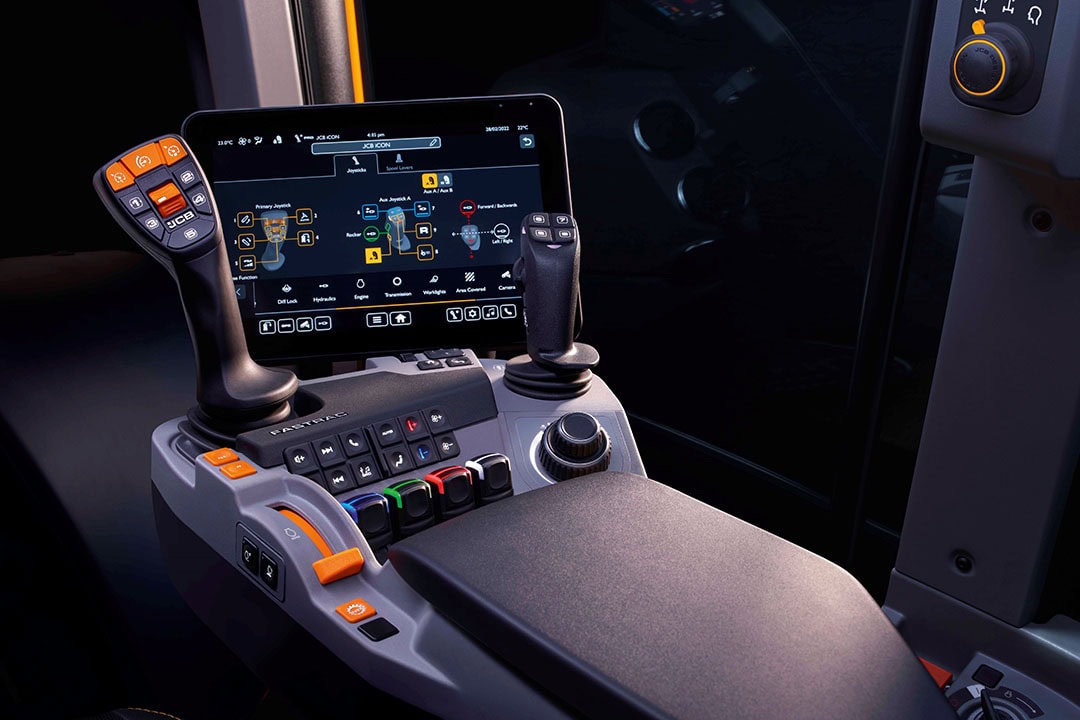 New 12-inch touch screen
JCB's new high definition 12-inch touch screen display presents key information on five screens using clear, crisp graphics, with the basic run screen layout designed to look familiar to current Fastrac users.
Swiping right brings up a more detailed running screen that includes settings for up to six front/rear electric spool valves; another two retain essential vehicle status information while providing a remote camera view and an ISOBUS 2 Universal Terminal screen; and a fifth screen is dedicated to JCB's new satellite guidance and precision farming options.
Headland Turn Assist
JCB Headland Turn Assist now has up to 50 individual sequences with up to 50 steps each, making life easier for the operator across different field operations.
Ahead of the operator, a new 7-inch fully digital dashboard display provides speed and engine rpm read-outs, along with essential vehicle status information.