Methane is what is known as an intensive greenhouse gas. It was therefore not a shock to anyone who knows much about global warming when on November 2 at the COP26 climate summit, the US and EU announced a global pledge to slash methane emissions.
At the summit, EU Commission Chief Ursula von der Leyen told the world that reducing methane was "one of the most effective things we can do to reduce near-term global warming," and named it "the lowest-hanging fruit."
Methane tractors
Tractors that can use methane already produced on dairy, pig or even some beef farms seem like a very good step forward for reducing agriculture's carbon footprint. These tractors burn the methane and produce CO2, a less-intensive greenhouse gas that doesn't stay in the atmosphere as long as methane (and is also needed for the growth of crops and all other plants, trees etc.).
Note that whilst methane-powered tractors can also obviously be powered through the existing natural gas network in a given country, that provides no net on-farm reduction of greenhouse gas emissions intensity and indeed, only supports further extraction of fossil fuels.
Methane capture and use
As we speak, manure is being stored outside or spread on fields on farms around the world. All the while, it emits significant amounts of methane. However, when that cow or pig manure (also food waste) is placed into a biodigester, the methane is captured instead of emitted. The methane is then cleaned to remove the sulphur (at this point, it's also called 'biogas' or 'biomethane' or 'renewable natural gas'). It's then ready to run a generator to produce electricity, to run heating appliances and/or to fuel vehicles like tractors. In the case of methane-powered tractors, the gas is compressed to an appropriate pressure, and placed in cylinders that fit inside the tractor chasis.
This use of methane, "collected from livestock waste and converted to biomethane, offsets more emissions per unit of energy in its production and use cycle than it emits," states Kęstutis Juščius. He is the CEO of AUGA group in Lithuania, which is about to market its own methane-electric hybrid tractor, the AUGA1.
New Holland T6 methane-powered tractor
The New Holland T6 methane-powered tractor, powered by biogas from the digester on site, was recently demonstrated at a 'Farming for Clean Air' show in the UK at 'Park Farm,' a commercial research farm owned by the University of Cambridge.
Text continues underneath video
Text continues underneath box
Methane capture options
Because full-sized biodigesters are pricey and only suitable for farms with large numbers of cows or pigs, there are also mini-digesters available on the market. Minis generally require only a simple permit from the local government, come to a farm pre-constructed and are very quick to install. They are also designed to run on manure alone, where large digesters generally need some addition of high-energy food waste, especially oils and fats, which keeps methane production high.
Those dairy or pig farmers who don't want to invest in a digester could also use technologies that capture methane straight from a manure storage lagoon. For example, the lagoonQUBE from Qube Renewables in the UK floats in the manure lagoon and captures methane. Each modular, hexagonal units covers 94m2. However, whatever the source, the gas must be cleaned and meet minimum methane content. For example, for the New Holland T6, the biogas must be >83% methane. In its non-refined state, biogas consists of 50%–60% methane, 40%–50% CO2 and some trace impurities.
Tractor design
Manufacturers of any tractor that runs on stored fuel/power have to ensure the tractor is designed to run for a full under typical power loads without the need to recharge.
The AUGA M1 is designed to use methane primarily and electrical energy (stored in the batteries) when needed. When operating under normal conditions, no electrical energy is needed, explains AUGA communications lead and project manager Karolina Sakalauskytė. "Such a system does not waste energy in low-load conditions, uses a relatively small but efficient motor and is able to extract tremendous power when needed," she says. "These solutions allow the tractor to work for up to 12 hours."
Text continues underneath image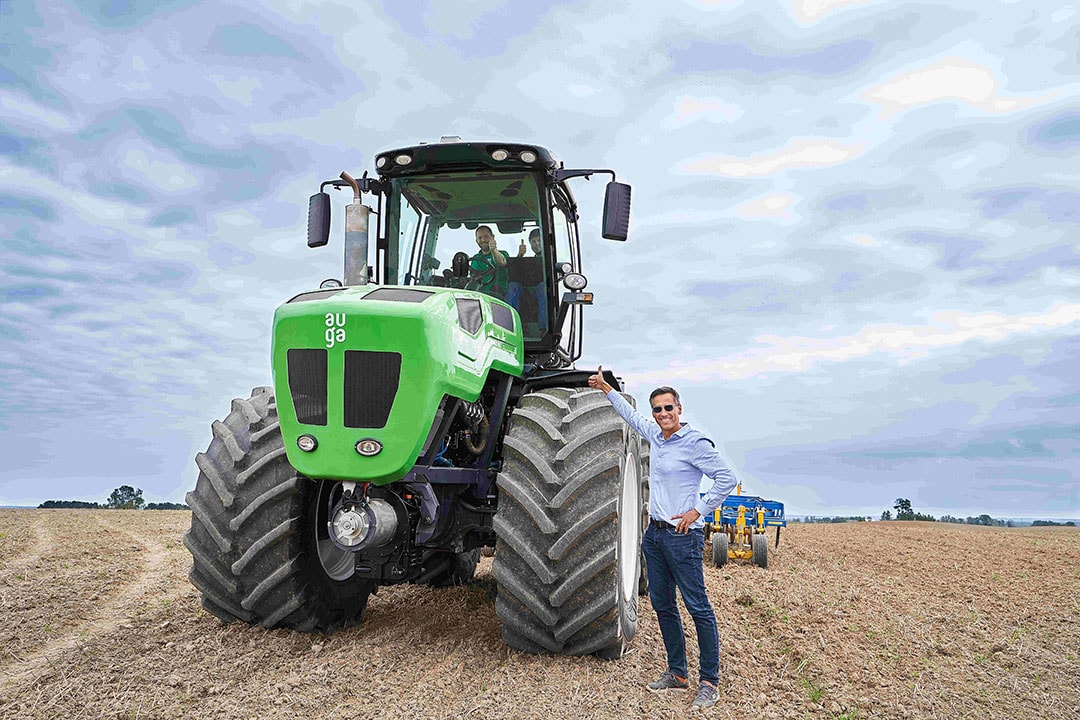 New Holland's T6 tractors run on methane alone. With 453 litres of gas capacity in ten tanks arranged around the centre of the chassis, the tractor holds sufficient fuel for around eight hours of road haulage or PTO work, rising to 14 hours for operating a cattle feeder or similar equipment. The front-mounted 'range extender' unit can be replaced with a front linkage and PTO if required or removed for loader work.
"The tank arrangement on the vehicle keeps all the current dimensions of the diesel vehicle, so we respect all existing wheel spacing and tire offering currently expected from the diesel equivalent," says spokesperson Aimee Culbert. "We have utilised the larger bottles in our range extender option, a group of three tanks mounted to the front to of the tractor."
In terms of biggest design challenges, AUGA had no comment, but New Holland lists tuning the engine to make it suitable for agricultural applications, controlling the additional heat developed from the engine, and fuel tanks/location of tanks.
Both firms are hoping for widespread sales, but Culbert notes that New Holland does expect varying adoption rates for this tractor. "Europe is leading the sales as they are more developed with methane supply," she says, "but we also have significant interest in North America, South America, Australia and New Zealand."
Text continues underneath image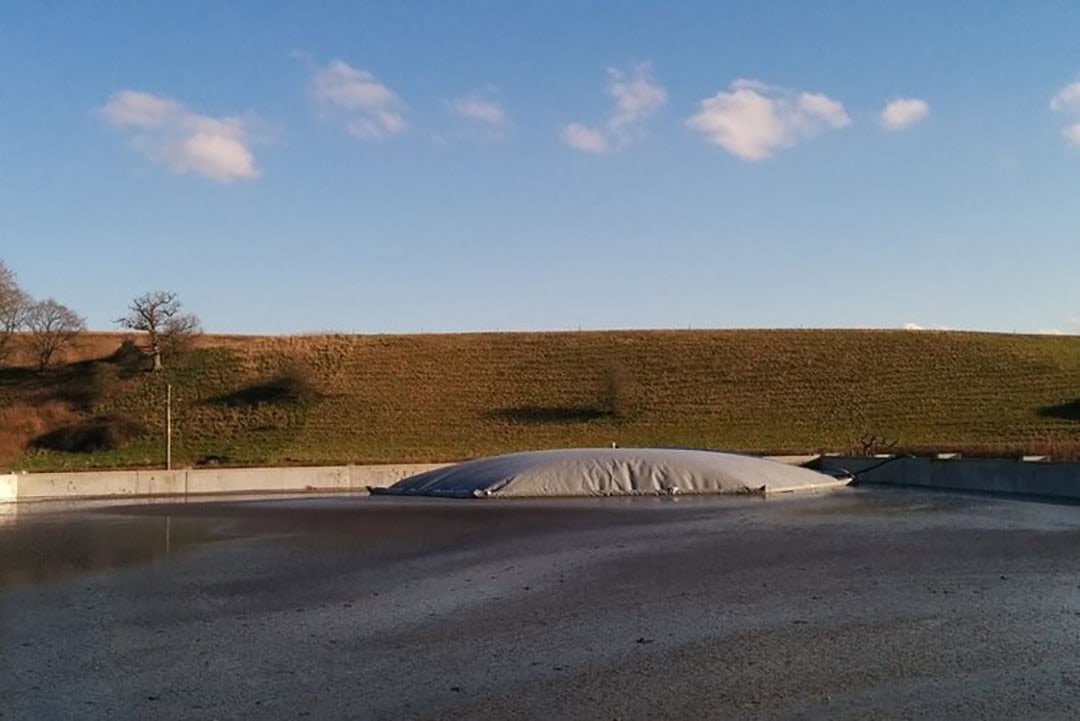 Cost comparison
Biogas from the farm's biodigester is technically 'free' in that fuel for the tractor is produced on-farm. In reality, these fuel savings are applied to the ROI for the digester's capital costs. If the digester gas is also used to produce electricity and heat on the farm, these savings are also applied.
New Holland has no comments on cost of its T6 (or its weight, in terms of comparing fuel savings when using it compared to using conventional tractors of similar power and size). However, it offers a calculator tool which allows users to estimate cost savings and compare emissions when using a methane-powered tractor. AUGA has a goal of making the cost of its methane-electric tractor the same as that of conventional tractors used for the same type of work.