While many companies exhibiting and machines on display and demoing at this year's edition of FIRA USA were familiar to the agtech audience, there were also some not to miss debutants. Apart from these weed elimination and harvesting solutions, Laudando & Associates showed their laser weeding and thinning technology and Robotics Plus launched their Prospr multi-use autonomous vehicle.
L&A blue laser for weeding and thinning
Californian Laudando & Associates (L&A) claims to have invented the world's first agriculture laser with patent pending technology. Their L&Aser technology intended for laser weeding and thinning features blue light laser with a 450 nm frequency. L&A says that CO2-laser is not optimised for plants and weeds and that blue laser is able to target its energy better enabling a shorter dwell time. 50 milliseconds are to suffice to eliminate weed plants making it 10 times faster compared to alternatives, so the company says. The heart of their application is the so-called AgCeption, a perception toolbox and IoT portal.
Text continues below picture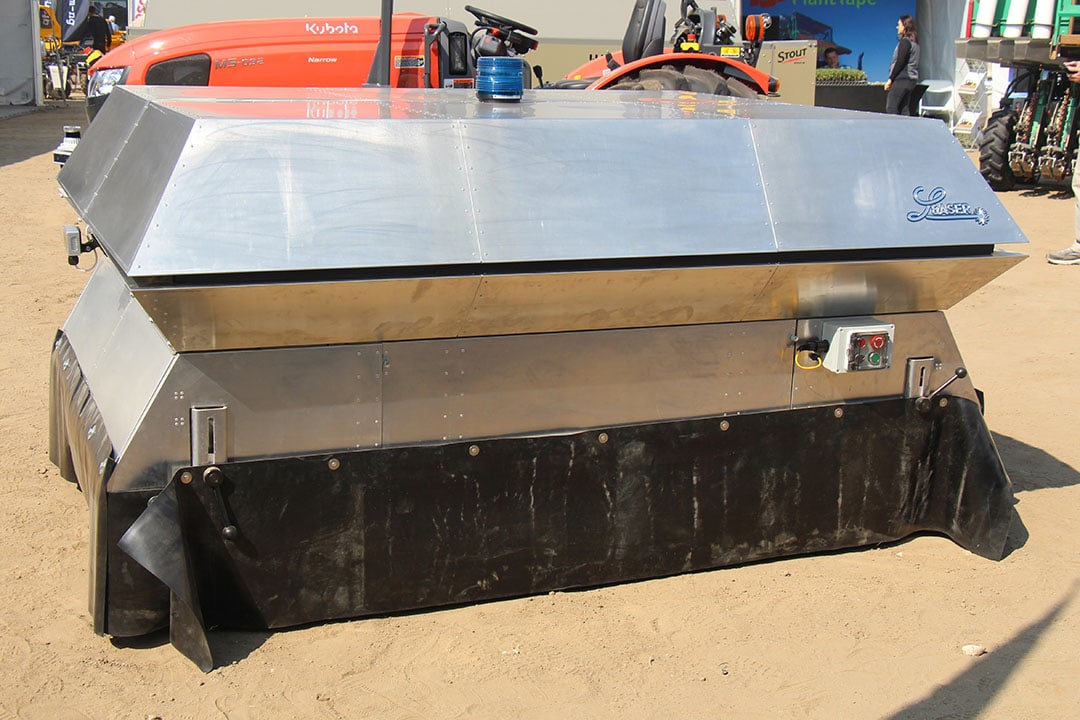 Their autonomous vehicle that was on display at FIRA USA is called L&Aser Shepherd and serves as a means to make the company's technology mobile. It can carry 6 to 8 235 Watt of their laser modules to target weeds in various crops such as different lettuce varieties, broccoli, carrots, kale and tomatoes. The technology is also designed for thinning in lettuce (Romaine, Iceberg) in 40 and 80 inch beds. This autumn, demonstrations are available in the US/California and the company plans to
Prospr multi-use autonomous vehicle
Alike last year, New Zealand-based agritech company Robotics Plus chose FIRA USA to debut its newest autonomous Unmanned Ground Vehicle (UGV). While last year the vehicle was just referred to as UGV, the commercial version of the autonomous, multi-use, hybrid vehicle presented this year, goes by the name of Prospr. Prospr features a Kohler diesel engine as generator for the electric drivetrain, steering and operation resulting in a claimed fuel reduction of over 70% compared to traditional diesel tractors doing the same job. There are no hydraulics present on the vehicle.
Text continues below picture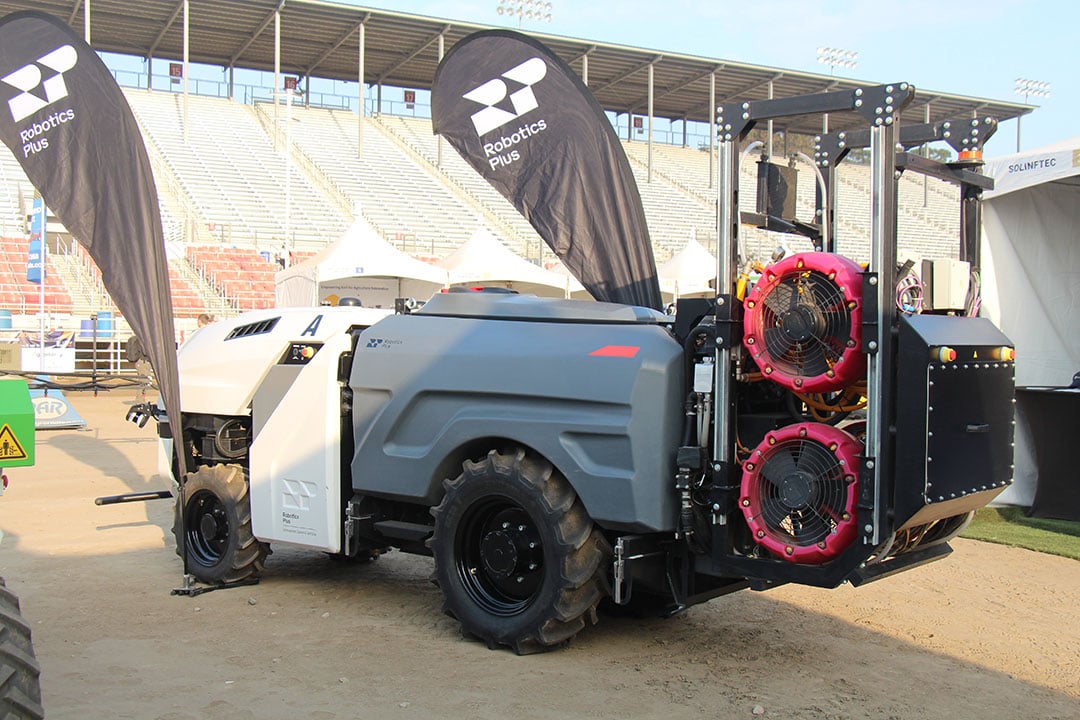 Apart from its revamped design, Prospr clearly indicates the 'willingness' to serve as an autonomous implement carrier capable of doing various tasks in primarily orchards and vineyards. It features four quick release couplings on which a four-fan Q4 sprayer based on Croplands Quantum technology was fitted for the occasion. The vehicle turns on its rear axle with a minimum headland requirement of 7.1 metres (23 feet) for row-to-row turning and the minimum row spacing is 1.85 metres (6.07 feet).
The pivoting point between the drive unit and the implement allows for optimal adaption to varying soil conditions while the repositioned LiDAR sensors on the front corners of the vehicle offer side views and blind spot detection. Prospr is now commercially available in Australia, New Zealand and North America for sales prices between US $ 230,000 and $ 250,000. During the first 1,000 hours of operation, a $ 10 fee per operating hour is applicable for support.