New Holland showed a prototype T7 LNG tractor running on LNG (Liquefied Natural Gas) at the Tech Day organised by CNH Industrial in Arizona, US. Due to the higher energy density of the liquefied gas, a front tank is no longer needed. The LNG-powered tractor produces 270 hp, as does the diesel variant.
This T7 tractor from New Holland is the first to run on LNG, liquid (bio)gas. The already available T6 Methane Power runs on CNG (Compressed Natural Gas). In fact, LNG is the liquid version of CNG.
LNG has roughly the same properties as CNG, but you refuel it at extremely low temperatures and you can carry a lot more in a limited space. According to New Holland, the new T7 Methane Power LNG takes four times more gas than the current T6 Methane Power.
The T6 methane tractor will remain in production, by the way. The T7 LNG tractor will join it. New Holland has not yet announced when production of the T7 LNG tractor will start.
Text continues below image
FPT NEF six-cylinder engine powers LNG tractor
The T7 tractor features a patented stainless steel gas tank that is shaped like a diesel tank and whose temperature is actively controlled. This is because the liquid gas must remain at a low temperature. Under the bonnet is an FPT NEF six-cylinder engine. A three-way catalytic converter is present, but no AdBlue is required.
The LNG tractor delivers the same engine power and torque as the current diesel-powered T7.270 model. The prototype features a stepless AutoCommand transmission.
Text continues below image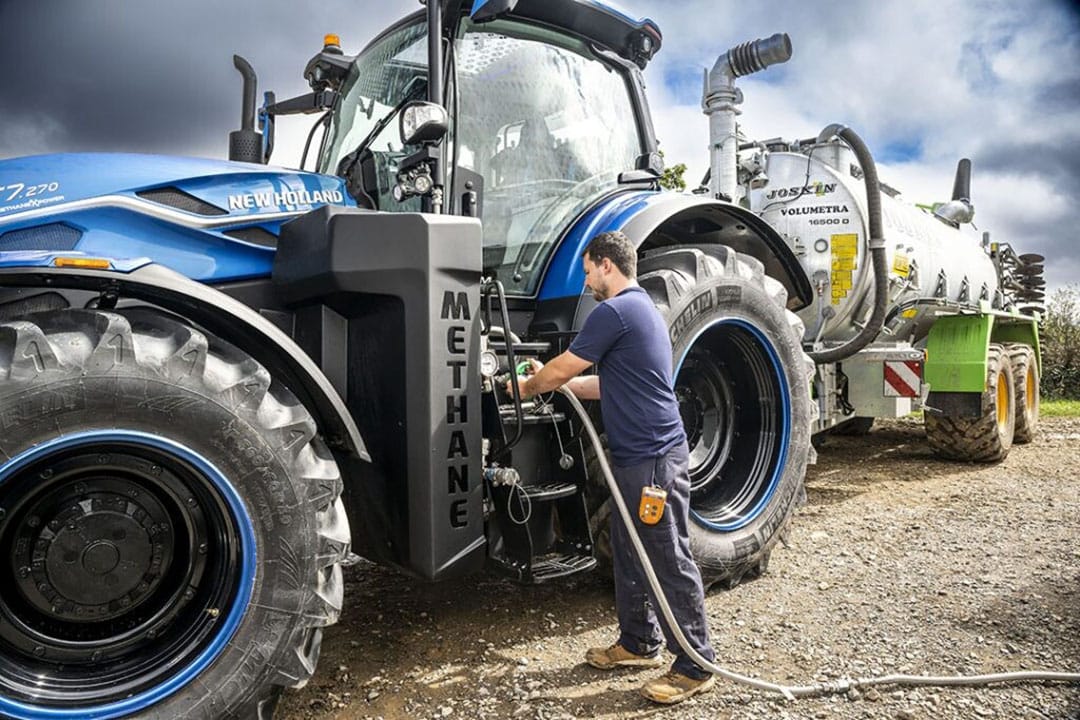 Modern exterior
New Holland is providing the T7 Methane Power LNG with the same new Clean Blue Colour as the newly introduced electric autonomous T4. The emblem is illuminated and found in several places (on the C-pillar). Furthermore, the black rims stand out as well as the LED lighting in several places.
T7 LNG tractor developed with Bennamann
CNH Industrial collaborated with Bennamann to develop this new model. Bennamann specialises in methane: converting manure to biogas, then converting this to liquid biogas in order to be able to store it. Since March 2021, CNH Industrial has been working with the UK-based Bennamann. CNH has a minority stake in the company.