The transmission is a combination of an electric part and a mechanical part. The idea stems from the project with the futuristic Steyr Concept tractor that was on display at the 2019 Agritechnica.
8% fuel savings
A prototype was tested in the last quarter, which showed that the machine saves about 8% fuel. That, while having more power and capacity. In the process, a more compact mechanical part of the transmission is possible, as the electric motor takes care of the higher power. With this, Steyr hopes to make the tractor lighter as well.
80 hp electric boost
The tractor's engine drives a generator, which in turn drives an electric motor and charges a battery pack. The electric motor drives the transmission and, when necessary, can deploy a so-called E-boost. This boost provides up to 80 hp of extra power. This can be desirable, for example, when you have to drive up a steep slope with a heavy tipper truck loaded with grain. Compared to a standard Steyr CVT transmission, this gearbox should be able to hold speed longer.
When driving downhill this is reversed and the gearbox slows down the tractor and generates energy for the battery. Normally you have to manually apply the brakes to maintain the correct speed. Doing this via the electric transmission saves brake wear and fuel.
Text continues underneath image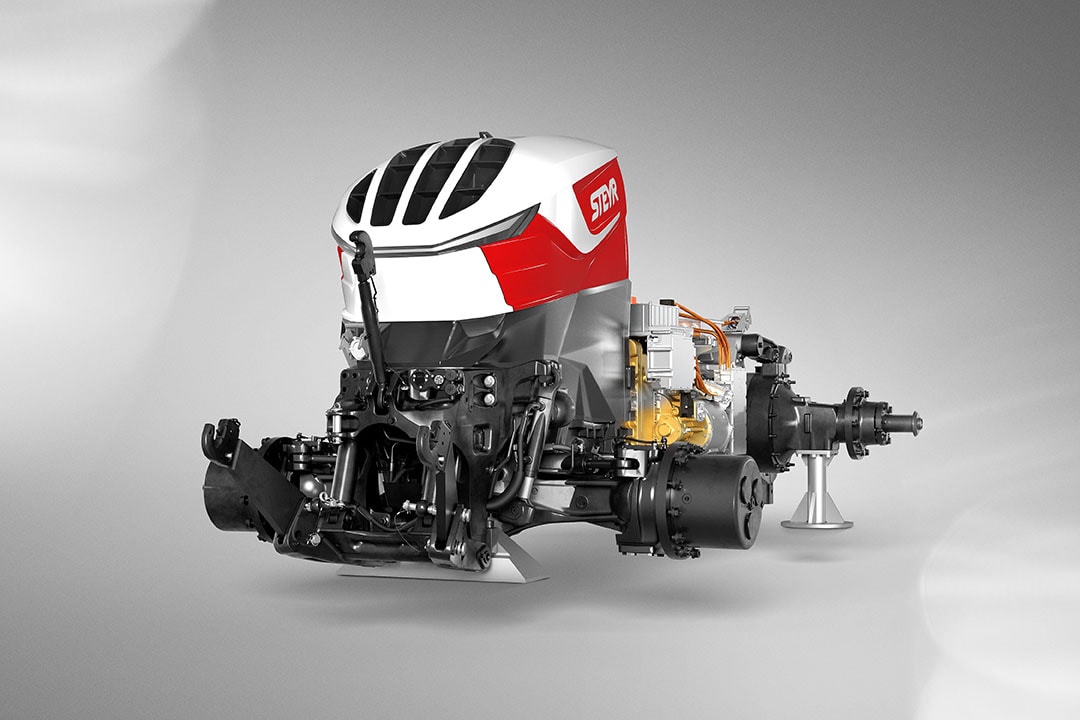 Separate drive for the front axle
In addition, the front axle is driven separately. In a standard tractor, there is a mechanical connection from the gearbox to the front axle, which cannot vary its speed. Steyr can adjust the speed of the front axle variably and when required with this gearbox. This makes it possible to reduce wheel slip. The turning circle is also reduced, as the front axle can actively pull the tractor through the turn at a higher turning speed.
E-Implements
It is possible to use the tractor to drive a certified implement. For example, a plow with an electric drive wheel. This helps the machine to push, reducing wheel slip and lowering fuel consumption. Power goes through an AEF connector to the machine wheel or another certified drive. When the concept transmission will be available on Steyr tractors is still unclear.