An unbiased platform for precision agriculture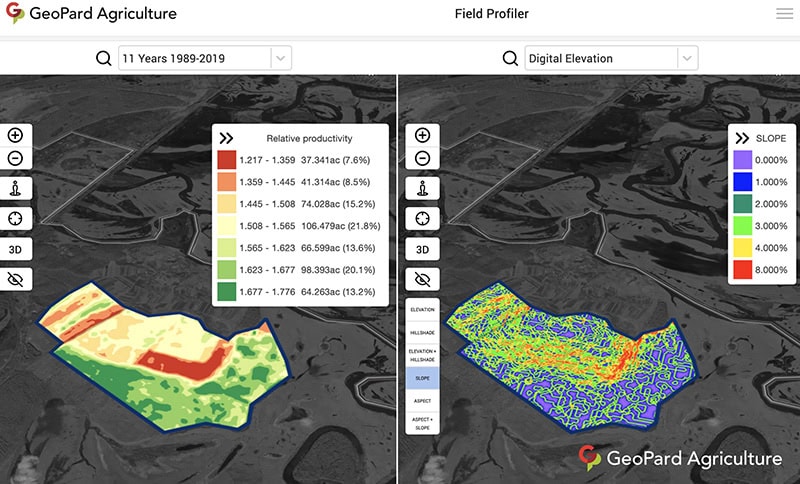 GeoPard Agriculture acts as an independent platform for precision agriculture. "That is probably the biggest difference with larger competitors in the market", CEO Dmitry Dementiev points out. "We are unbiased."
GeoPard Ag, based in Germany, provides comprehensive analytics across a large number of data layers, relying on yield maps, soil analysis, topography, air moisture and vegetation moisture indicators over a multi-year period. "Our key advantage lies in providing a holistic perspective on each field, using impartial data analytics", Mr Dementiev says.
The three founders of GeoPard Agriculture – Dmitry Dementiev, Dzmitry Yablonski and Vladimir Klinkov – have extensive experience in their field. They previously developed their own precision agriculture web-based software, called Zoner, that was later acquired by Bayer. And they have worked for several years as Digital Farming Technical Managers at Xarvio.com (part of Bayer). Currently, the three founders are the only owners of GeoPard.
Text continues below picture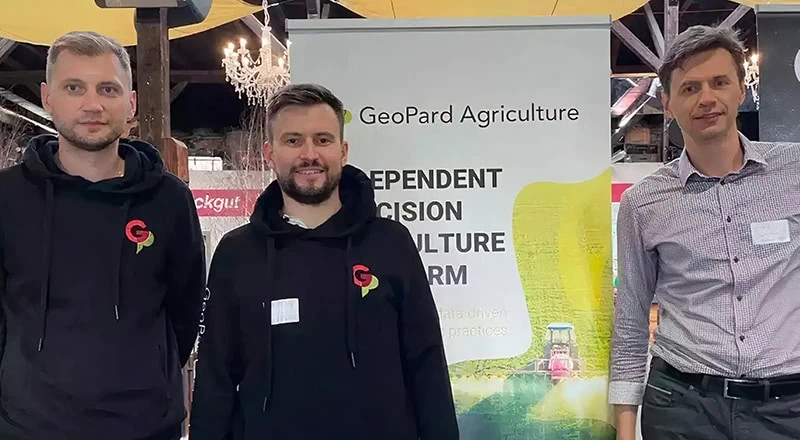 "We decided to start our own company, because there was a lack of independent companies in our field", Mr Dementiev explains. "The majority of solutions are developed by large-scale corporations. A significant number of farmers and agronomists are hesitant to share all their data with these industry giants, and are actively seeking alternatives. In response to this need, we built our own comprehensive data analytics precision agriculture software."
Analysing data and productivity
GeoPard uses several vegetation indices that are commonly used, including the Normalized Difference Vegetation Index (NDVI), Wide Dynamic Range Vegetation Index (WDRVI), and Green Chlorophyll Index (GCI). Agronomists or farmers can also load other indicators into it.
The program can analyse the data and productivity of the field areas, making prescriptions for variable rate application of seeds and fertilisers, or for crop protection. According to GeoPard, this helps growers to save on seeds and fertilisers, and increase yield.
The software also offers users historical – multi-year – management zones, that are built based on archives of satellite imagery. These zones provide insights about every spot in the field. The field crop development pattern helps farmers or other users to know the specific areas better.
"Agronomists and farmers can work together in GeoPard", Mr Dementiev explains. "Agronomists create various kinds of custom prescription maps, using our analytics, based on zones. Or they create post-harvest maps for example. Our system can work in such a way, that it creates these maps in an automated manner. We can also use the historical satellite imagery to create a field potential for certain zones on the farm. This can be used as a basis for several precision applications, such as variable rate seeding of fertiliser application maps."
Text continues below picture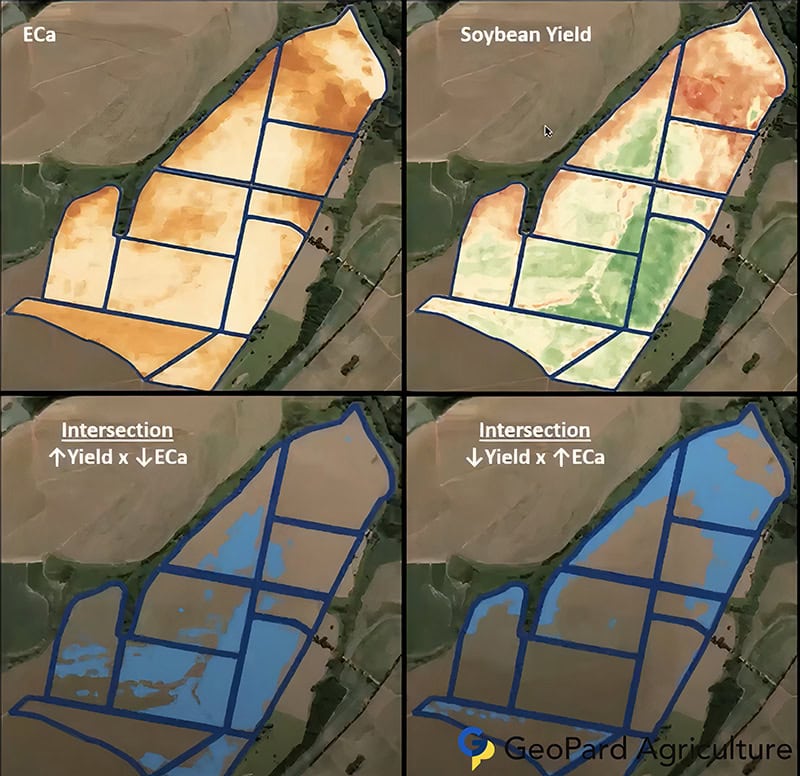 Sharing data
GeoPard offers services from open sources, and also gives clients the opportunity to use high quality commercial data, such as high resolution satellite imagery from provider Planet. "Clients can add their own soil sampling data, harvest data or fertiliser data into the system", Mr Dementiev says. "And very soon, we will integrate weather stations into our platform."
Recently, the platform launched an analytics portal tailored for farmers and dealers leveraging John Deere technology. Mr Dementiev says the portal enhances farmer experiences by optimising agronomy, assessing nutrient efficiency, and enriching the John Deere Operations Center with imagery, soil, and analytics data layers. "We provide value to dealers as well, and in particular to John Deere dealers", Mr Dementiev says.
Although agronomists and farmers can share data on the GeoPard-platform, the company will never share data with third parties, Mr Dementiev stresses. "In this respect we are different from other parties. We always explicitly say that we do not sell or share data. All the data belongs only to the users. So, the data is well protected. But farmers and agronomists can share data, if they want to. If they already share information on the John Deere Operations Center for example, it will be shared automatically."
Bottlenecks and evolving technology
Technology has now advanced far enough to enable a smooth exchange of data and use of data, but the knowledge of those involved in agriculture is still somewhat lagging behind, is the experience of GeoPard. "There are not enough people available that can work with modern technology", Mr Dementiev says. "In Europe for example, you cannot find many independent crop consultants. Usually, people that can work with the technology, work for the bigger companies."
Technology itself now allows a smooth exchange of data, he points out. "There are some bottlenecks in data-connectivity, and different companies use different data-types. But at GeoPard, we are currently transforming data from all equipment-companies."
"Precision agriculture is advancing rapidly. It would be good if there were more trials in countries to show that it actually works, because farmers often are sceptical. Usually, because in the past companies have promised them too much, and oversold what they could really do. This is sometimes a problem for us. Farmers do not realise that technology is evolving. Data from machines, satellites, sensors and other sources now seamlessly flows from one point to another. It is a great time to implement precision agriculture."
The platform continues to add new applications. Integrating weather stations into the system will make it possible to calculate soil moisture on a sub-field level. "Presently, farmers have just one data-point for this, but we will soon be able to extrapolate it to the whole field."
Accurate yield data
The company is working on developing an analytics batch-mode as well. "This will analyse multiple fields or farms at once. We have had many requests for this option from service companies. They want to have different analytics or maps for hundreds of fields at once."
In addition, the company is developing automated yield data-cleaning and collaboration. "At the moment, when yield data is collected, it is often duplicated during collection", Mr Dementiev says. "With a new AI module, that we have created, yield data will be cleaned. This will provide much more accurate results from row yield data-sets." GeoPard is planning to add drone-imagery in time as well. "It is not difficult to add new data-sets. But drones are still not used that much."
GeoPard Agriculture acts as an independent company. "That is probably the biggest difference with larger competitors in the market", Mr Dementiev points out. "We are unbiased. Our clients can use products from any company. And we have a powerful API (application programming interface). In addition, we act as a data-analytics provider. For example, American agricultural chemical and seed company Corteva uses data from GeoPard to provide maps for its clients."
Text continues below picture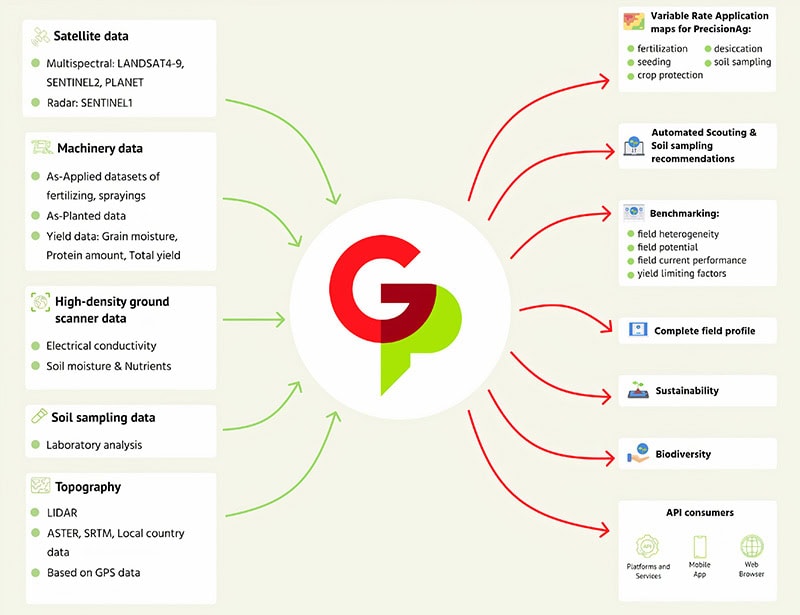 A more complex solution
GeoPard is not a niche company, Mr Dementiev emphasises. "Some companies just produce maps for a nitrogen application for example. At GeoPard, we have a more complex solution. It is possible to analyse most crops or get to a quick recommendation for almost any crop, and for almost any agronomic operation. Agronomists can also use their own formulas in our system. We provide flexibility."
GeoPard Agriculture is mostly used by agronomic services companies, currently on more than one million hectares. The company also has farmers as clients, primarily with big properties. It is active in Europe, the US, Canada, Central America, and is starting up in South America and Australia.