Topcon offers entry-level, mid-range, and premium autosteering solutions with four different kinds of terminals.
What is the most striking detail of your system?
The most striking part of our solution is the ease of use and compatibility with the wide variety of implements we can control either through Isobus or our own Isobus solutions.
How is it fitted?
Installation time will depend on the application that is fitted. For a steer ready tractor with already installed wiring, a typical installation and calibration would take an average of 3 hours. For installations that require wiring retrofit along with harness routing, an average of 8 hours would be required.
Can it be fitted on pre-installed or factory fitted vehicle components?
Yes.
Can you take the system to another vehicle?
It's very easy to transfer from one tractor to another. The second machine would require a hydraulic valve (optionally factory fitted) or an AES-35. Additionally, the customer can also choose to take everything from tractor to tractor. The only required part then would be a roof-plate to make sure the receiver is always on the same spot.
Pre-installation variables are essential. If all harnessing is available on both systems, 20 minutes will have the kit transferred between tractors and calibrated. In an AGS-2 with AES, external radio and antenna, another 20 minutes are required due to the modular approach of the installation.
What happens if satellite or correction signals lack or fail?
Topcon offers an active, satellite based, correction signal to cover the lack of failing RTK correction signal for 20 minutes. We call this Skybridge and it comes as a subscription-based option.
What patterns are available?
Straight, curved, centre pivot, guidelock (creates line from previous coverage), external and internal boundaries, obstacle marking/flag points, multiple lines of any type display simultaneously.
How often and at what costs is the software updated?
We release new software every 6 months and the upgrade prices are determined by OEM, dealer/distributor.
Which licenses/unlocks are available and at what costs?
Task Controller (Isobus TC) is included as a standard feature. Prices of unlocks vary from $55 to $1,650. Some of these are included as standard depending on the chosen type of display.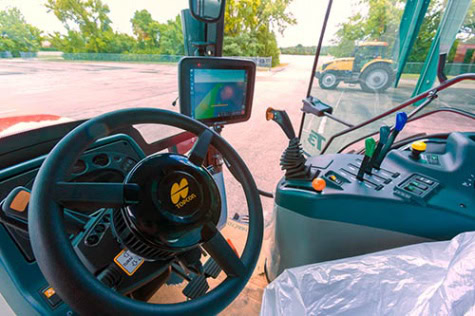 Specifications
| | |
| --- | --- |
| Company name and nationality | Topcon, Japan/USA |
| Product name | Autosteering |
| Suitable brands and tractor/vehicle models | Most makes and models |
| Technical requirements for tractor/vehicle | No specific technical requirements |
| Which global satellite systems does it support as standard? | GPS, Glonass, Galileo, BeiDou, QZSS |
| What type of terminal(s) are available? | XD, X25, XD+ and X35 |
| Terminal size(s) (inch) | 7", 8.3", 12.1" |
| Type of display/screen | LCD touchscreen |
| Is it waterproof/water resistant? | Yes, IP66 |
| What application map and data formats does it support? | Iso-XML, ESRI Shape |
| Is your solution Isobus compatible? | Yes |
| Can you engage autosteer with a button on the tractor arm rest/joystick? | Yes |
| Is it capable of doing autoturns on headlands? | Yes |
| Can it control/operate sections of sprayers, seed drills, etc? | Yes, up to 256 sections |
| Possible minimum and maximum driving speeds with autosteer engaged | min. 0.01 km/h 30 km/h |
| Main components autosteer system | Terminal, receiver (includes steering controller) |
| Rough retail price | From €4,500 on steer ready tractors without RTK. RTK upgrade for €4,200 |