Growers can already use the device for lentils. CEO Dr Sivam Krish of GoMicro says that of all grains, lentils are the hardest to assess. "We have succeeded with the hardest first, the rest should be easy. In January we will be adding wheat."
The company's technology is already being used to assess soy quality by PB Agrifood in Queensland. GoMicro is also developing an app for an Indonesian company, keen to assess the quality of corn in poultry feed. "We are building an app for them and are in the final stages of testing."
GoMicro's AI technology will eventually enable a wide variety of grains to be assessed for physical characteristics. Dr Krish expects that the low-cost, portable device, could potentially replace expensive machinery, industrial cameras and grain feeders that are currently required to separate the grains for assessment.
Text continues below image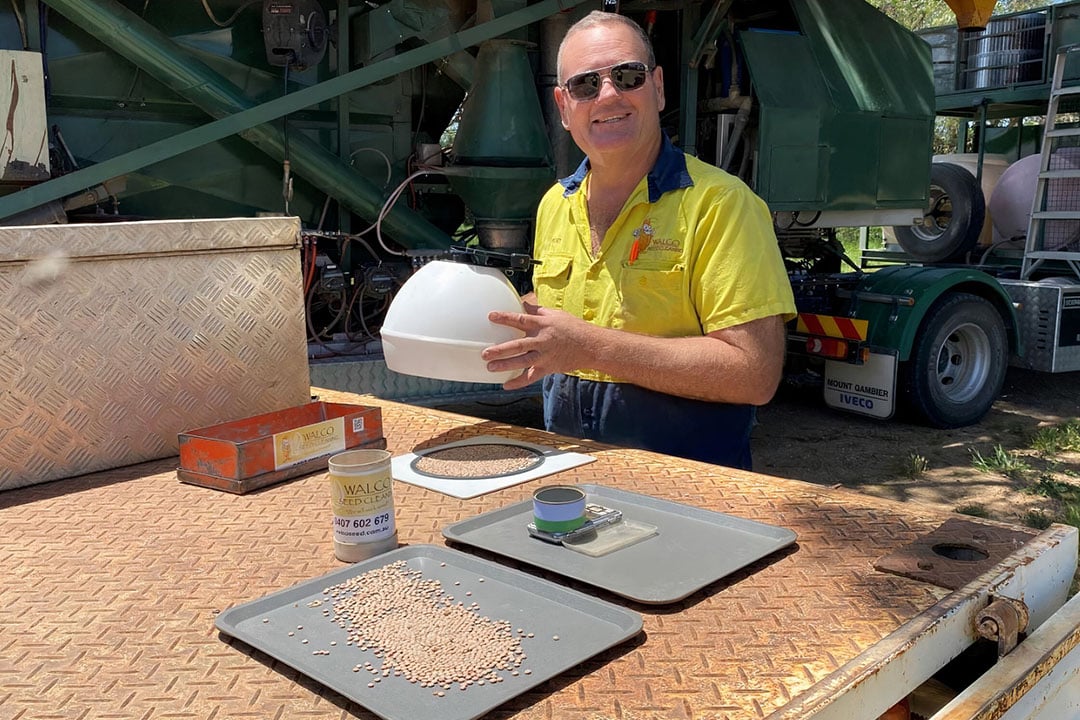 Higher accuracy
Dr Krish says that GoMicro's technology can assess over thousands of grains in one go in about a minute with an accuracy of over 95%. "GoMicro's advantage comes from the small number of image sets required to train its AI applications. While most companies require thousands and thousands of images, we achieve high detection accuracies with a few hundred images, based our signature imaging conditions, using ambient light. This enables our company to build and test apps rapidly."
Dr Krish acknowledges that other companies – like Australian start-up Cropify – are also working on technology that assesses the quality of grain. "But we are using phones, and others are using camera-technology. That is a difference. Our technology also eliminates shadows. That makes it easier to train it, with a fraction of the images that are used with camera-technology. And we have a higher accuracy."
I believe we actually have a usable product
"Millions of dollars have been spent on this, but nobody has a technology that works with a phone. But I believe we actually have a usable product." In Australia, customers of GoMicro are now using the Assessor. "It's screening really well. Poor colour assessment for example is very difficult, but we are very much on par with human assessment with this. And we can very quickly improve to a very high standard, because we need smaller image sets."
Text continues below video
Resolving quality-related disputes
GoMicro does not define quality standards, but the app can enable anyone to create their own requirements, based on samples of acceptable quality. "This can help resolve quality-related disputes over grain destined for export, as both parties can now assess grain to pre-agreed specifications, using the same device and app", Dr Krish emphasises.
"Standards have evolved over time to resolve these issues, however human subjectivity may still make them problematic. The Assessor and the AI technology eliminate the subjectivity and create a much more level playing field. Both the seller and the buyer can now make assessments independently."
The Assessor is the only accessory which comes with the GoMicro app. It is a white plastic bowl, that is held in front of the phone camera lens and above the sample, it can photograph the subject in even light, without shadows, and compare it to GoMicro's growing database of images. This technology stops 'confusing the camera', Dr Krish points out.
Text continues below image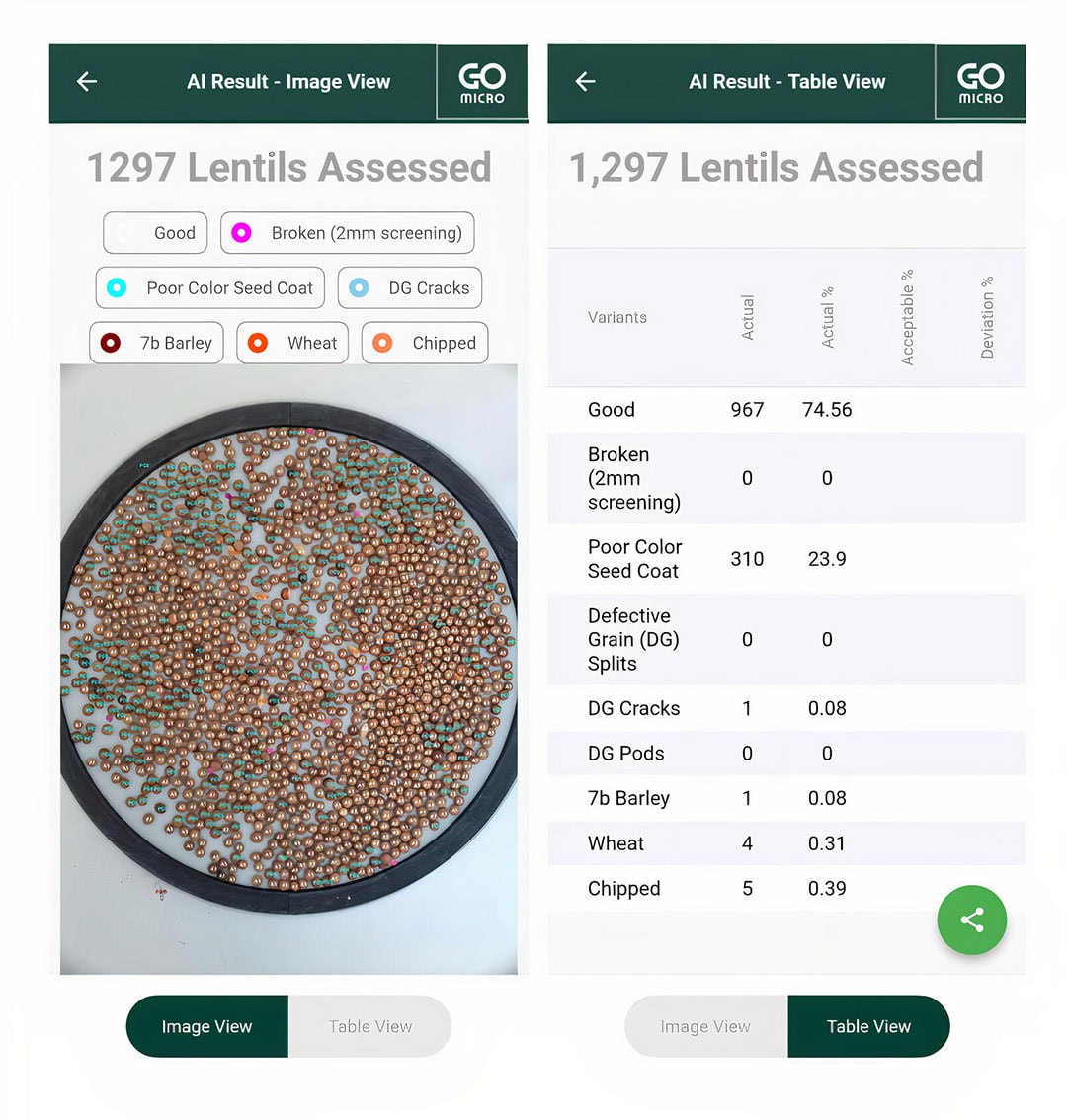 On-farm quality control
Quality assessment in the grain industry mostly happens at the delivery point. In Australia, these delivery points can be several hundred kilometres away for farmers. If the grain being delivered does not meet the standards required, it may be downgraded, or rejected all together.
On-farm quality control will enable farmers to assess the quality of their product before delivery. This gives them the option to clean it or choose the most appropriate strategy to maximise their financial gain.
Farmers are able to use the technology in a simple way, even at harvest point. Dr Krish: "What is happening now in Australia, is that farmers are building their own storage facilities. That allows them to sell it at the right time and the best price. They can now do their quality control in their own place, and don't have to drive a long way with the risk of it being rejected."
This solution will help evaluate the risk of rejection without having to drive hundreds of kilometres with samples
According to grain broker Robert Luetolf of Cogeser Australia, the fear of rejection at receival points is a major issue for his clients. "Uncertainty often makes the farmer take lower value bids. This solution will help evaluate the risk of rejection without having to drive hundreds of kilometres with samples."
Kurt Walter of Walco Seed Cleaning says that farmers often ask for an opinion of their grain sample based on a photograph. "Using the Assessor, we can more accurately predict the final outcome of the grade their grain will be after cleaning."
Text continues below image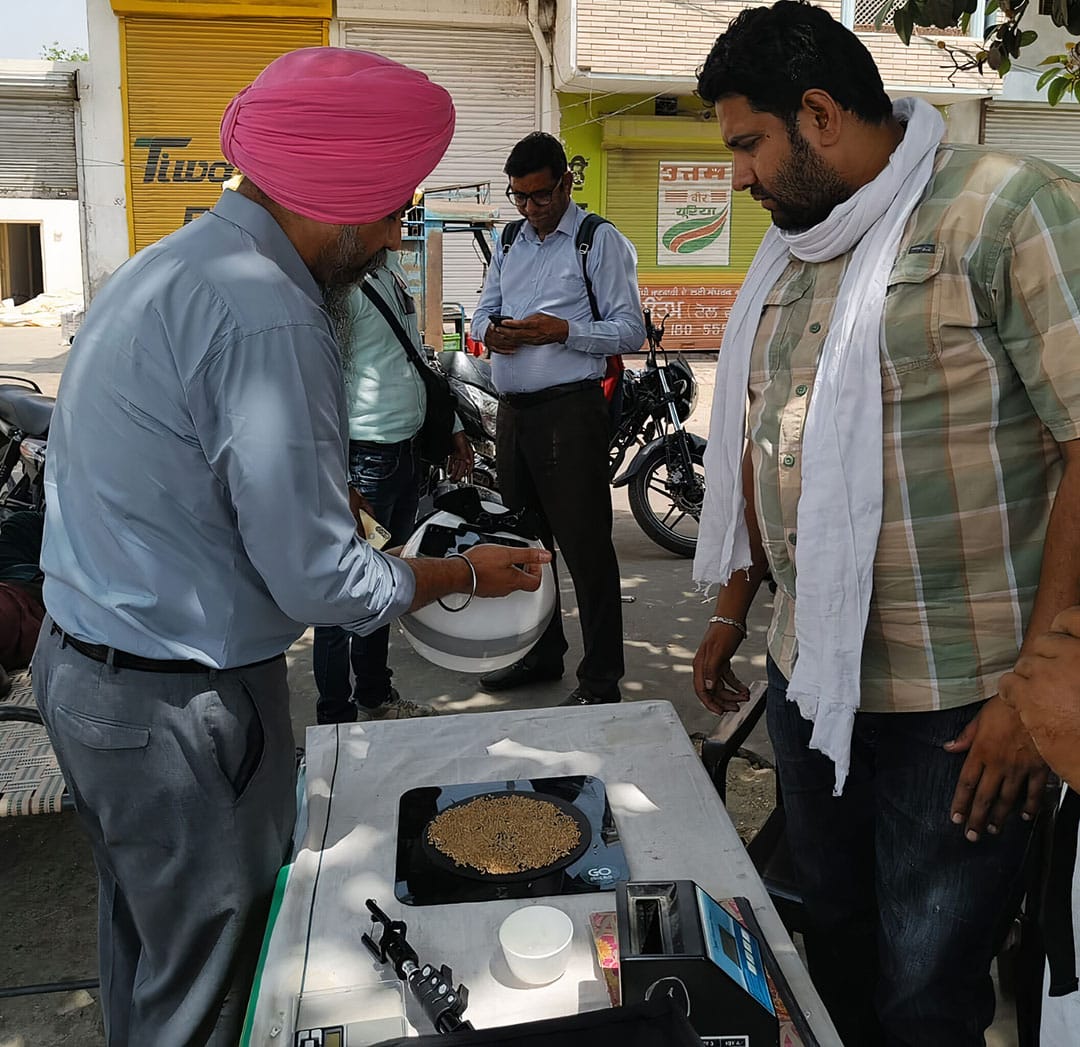 Save up to 10 minutes per sample
Mr Walter emphasises that the Assessor could save his company up to 10 minutes per sample. "That in itself is a massive plus, both saving time and dollars." Dr Krish explains that the traditional way of assessing 200 grams of grain takes about 30 minutes. "We can do 100 grams in one minute. We will develop a different version for buyers, with the same lighting conditions, so they will get the same results as the sellers. That is a big advantage"
Farmers can also use the Assessor on their headers during harvest, allowing the operator to make adjustments to harvester settings to suit the grain as they reap. This could be especially useful in extremely wet conditions, where poor colour and severe wrinkling in lentils could be a problem. According to GoMicro, this will give farmers confidence in knowing their load of grain won't be graded lower than expected or rejected.
Dr Krish expects that the technology can create additional value to the industry by measuring aspects outside current standards, such as the size of each lentil. "This will allow exporters to segment what they buy for different markets as some buyers are willing to pay a premium for larger lentils."
The Assessor costs AUS $300 (US $202). Farmers pay around AUS $600 (US $404) per year for using the technology. GoMicro plans to introduce the technology in many other countries, starting with Canada, the US and India.