Telefarmer is mainly targeted to specialty crop farmers who are struggling with labour shortages and suffer from associated rising costs. During WorldAg Expo, Agtonomy officially launched its new tractor and the two complementary products that go with TeleFarmer.
Tele-guidance software system
First, there is Farmer Software, a tele-guidance software system that turns tractors into remotely operated vehicles. It is equipped with proprietary TrunkVision, which helps these tractors safely and accurately navigate within centimeter-level precision of any specialty crop.
Then there is the Telefarmer Service, an app that puts control in the hands of the operator. Farmers can plan and implement tasks such as in-row spraying, open-field mowing and transporting of harvested crops. This service also provides monitoring notifications and other key information needed for farmers to resolve issues as they arise remotely or dispatch someone to the field for larger issues.
Text continues below image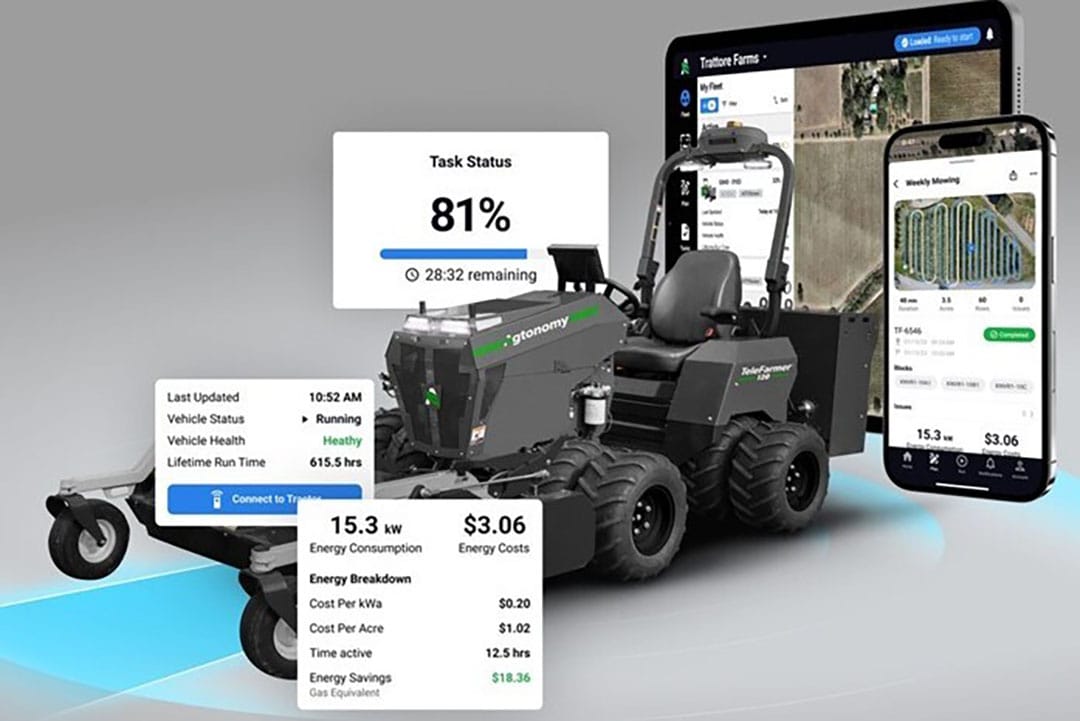 Fully electric Telefarmer tractor
Finally, there is the Telefarmer tractor which is a fully electric tractor with 54 HP that precisely performs labor-intensive field tasks even in the toughest terrain or at night. The tractor is equipped with sensors, detection and vision cameras and GPS. The Telefarmer tractor can be operated in 3 different modes:
Manual, as a classic tractor
Remotely with an embedded vision and a smartphone, with a 300-meter range
Driverless mode, fully autonomous
While the Telefarmer tractor is still in its early pilot phase, it has already attracted attention from the agricultural industry due to its promising performance. Agtonomy has worked closely with farmers and industry experts to ensure that the Telefarmer meets the specific needs of vineyards growers.
Agtonomy has already signed a partnership with two Californian wine producers, Treasury Wine Estates and Silver Oak Cellars. These partnerships should allow Agtonomy to quickly perfect the machine further before making it available to a wider public. According to Agtonomy CEO Tim Bucher the TeleFarmer solution will become available to a wider range of users in the Western US, Europe and even Australia. Agtonomy doesn't disclose how many machines are currently in operation.
Electrification at the heart of Telefarmer
Telefarmer is fully electric and equipped with 4 electrical motors (one for each wheel), plus an additional motor for the PTO. According to Tim Bucher, an electric vehicle has three main advantages for growers.
Firstly, an electrical powertrain is more efficient and provides more torque than a diesel engine. This means the tractor itself can be very compact, while still delivering 120 HP peak power. It is also much easier to control and easier to predict the vehicle's reaction and its equipment, especially when it's being used as a driverless system, thus meeting the specific needs of farmers.
Lower production and operation costs
Secondly, the production costs and operation costs are lower than those of a diesel-powered vehicle. An electric motor can be built for a fraction of what it costs to build an internal combustion engine, and needs hardly any maintenance. Also, electricity is far cheaper than diesel, and because of it's high level of efficiency the electric tractor uses less energy anyway to perform the same tasks as a diesel-powered tractor.
Finally, electric vehicles are better for the environment. In a context where climate change is increasingly felt, choosing electric motorisation allows farmers to eliminate their CO2 emissions without impacting their technical itinerary. Farmers could easily recharge the Telefarmer from renewable energy sources, such as solar energy, for an even lower carbon footprint.
When it comes to recharging their tractor, Agtonomy has thought of everything. According to Tim Bucher, "it was important that this tractor be able to work 24 hours a day to meet certain peak loads during the season."
Text continues below image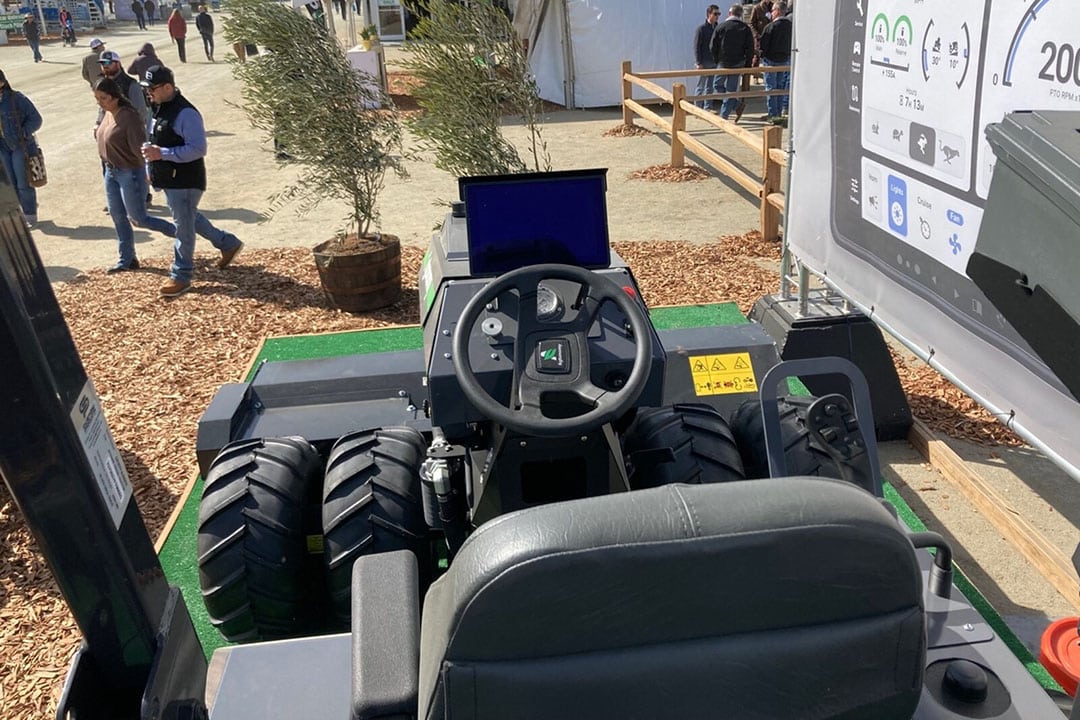 Plug and play batteries
So, for the development of the battery system Agtonomy got inspired by the principles of power tools, with plug and play batteries. The vehicle itself carries only a small battery which it uses to move. Then there's the main battery (between 18-35 kW) which powers all of the machine's functions. This main battery, which is located at the rear, can be swapped automatically. With a fully charged battery, the tractor can run for eight to twelve hours, depending on the workload.
For now, the tractor has been dedicated to specific tasks such as mowing, spraying, logistic and weeding. During WorldAg Expo, a demonstration was set up to show the capabilities of the tractor in a vineyard configuration. We could see the machine running in autonomous mode with one or two implements at the same time.
Telefarmer as a service
Agtonomy, as many other manufacturers, has decided to offer its tractor as a service. Growers pay a fee on a monthly basis to have the machine, its equipment and have access to the software and service. The total package amounts to a couple thousand dollars per month, but no precise figure has been made official.
Text continues below video
Partnership with Bobcat
Agtonomy has partnered with Bobcat Company, a global compact equipment manufacturer, to ensure the quality and the efficiency of production of the Telefarmer. The goal of this collaboration is to advance productivity in the agriculture industry through collaboration in the areas of electrification, autonomous operation and digital technology. Through this partnership, Bobcat and Agtonomy plan to create new and innovative ways of enhancing ag equipment and increase productivity and performance.
Text continues below image