Bluewhite offers a autonomous farm platform, creating an easily adopted system for Robots as a Service (RaaS). The Bluewhite autonomous tractor kit leverages 20 years of experience in autonomous technologies from the Israeli Air Force. The autonomous farm platform is a combination of smart sensors and AI that lets the tractor safely and efficiently navigate while operating sprayers, mowers, and harvesters. This tractor kit creates an accessible solution to upgrade a current farming fleet to fully autonomous.
Mike Harder, vineyard manager for Vino Farms, has worked with this technology for more than two years now and shares his experiences with Future Farming.
Why did you decide to invest in the Bluewhite autonomous tractor kit?
California is facing a lot of problems with labour. For the past five years, it has been getting harder and harder to find qualified workers, and every year it gets worse. At the same time, working hours have been reduced significantly, from 10 to 8 hours, with a total of 40 hours per week.
It is getting to the point that good tractor drivers are so rare that we are forced to pay more and more to keep them, and sometimes it is not even enough to keep them. Not seeing how things could get better, we made the choice to move forward and invest in autonomous tractor technologies.
Text continues below image
Who is operating the machines?
Bluewhite is still operating the tractors and they work on the entire management process with me. They start by mapping the vineyards, then they operate the tractors and take care of the logistics, and finally they help me with the reporting and improvements.
It is a collaboration, like if they were part of my team. They help me to better integrate these solutions in my entire operation processes. We already work together on 1,200 hectares of my vineyards.
For which tasks do you use these machines? And how many passes?
We have chosen an application where we both think that Bluewhite will be quickly successful with. So, we have integrated mowing and berm sweeping. For mowing, we can do up to 4 to 5 passes a year. For berm sweeping, it is basically one pass a year.
Text continues below image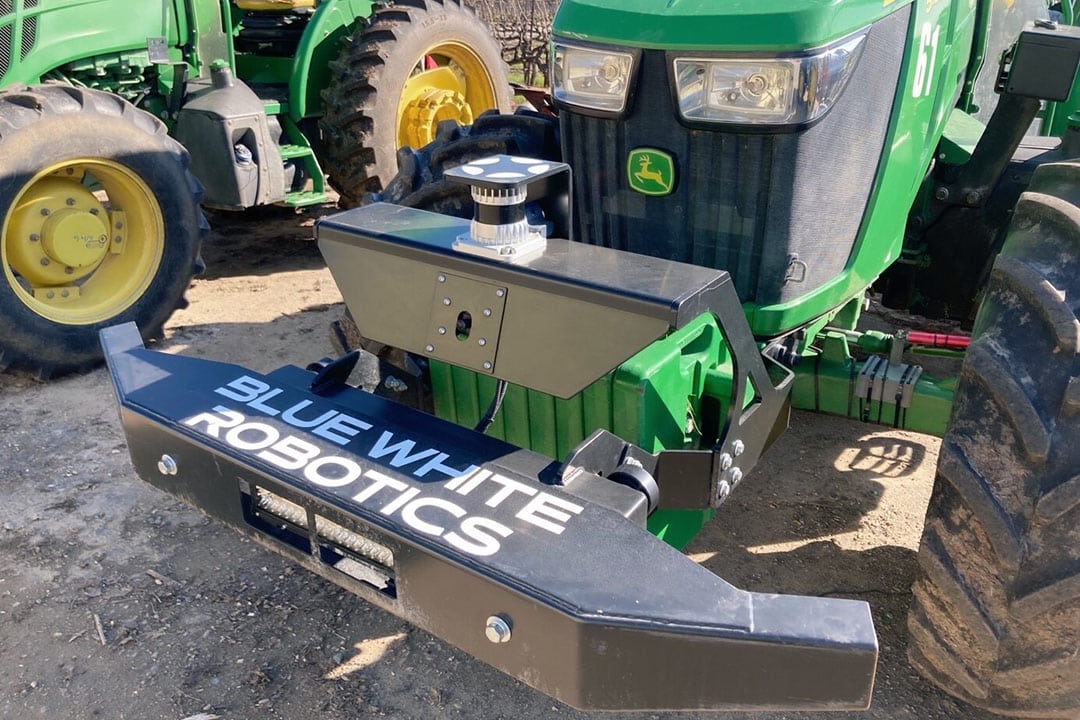 Are you thinking about using these autonomous tractors for another tasks?
The next step is spraying. This year we plan to start a spraying activity with Bluewhite, which on a long term could help us to save a lot of working hours. Canopy spraying is about 4-6 passes a year and weeds spraying is about 3 to 4 passes a year.
Our goal is to keep developing these solutions on our vineyard and use them 20 hours a day
How would you compare this solution to a conventional tractor?
Since Bluewhite still have an operator on the tractor or close by, I have not seen a big difference from a field application perspective. However, having an autonomous tractor on the field has solved a couple of issues, such as liability and labour loss. Since I got these machines, I have drastically decreased my managing hours per week. So, with less working constrains and less drivers, our goal is to keep developing these solutions on our vineyard and use them 20 hours a day.
What would you like to see improved?
In autonomous mode, tractors cannot drive in reverse. From a safety point of view, it is understandable since the lidars are placed in the front. However, when the tool is larger and the plots smaller, manoeuvres may be necessary. I am waiting to see how Bluewhite will handle this.
Secondly, for the moment we are working on only 2 tasks, which is very little compared to all the other activities we do in the vineyard. If I want to fully integrate these machines in my operations and make them more profitable, they will have to perform the maximum number of tasks as possible, two are not enough.
Text continues below image
How much does it cost?
I cannot tell you the exact price. We pay an entrance fee to implement the Bluewhite autonomous tractor kit on our tractors. And then we pay a fixed price per year, which costs about 2 times less than if I had to pay a tractor driver. On my side, I just pay the maintenance and the fuel, which are the same as on a regular tractor.
These technologies have paid for themselves after one season
I am sure that costs will evolve once the tractors are in operation on our side, but considering the work done and the start-up costs, these technologies have paid for themselves after one season.
Text continues below image
How do you make this solution profitable?
A tractor driver costs us about $ 28 – $ 29 per hour. Our plan is to have one operator for 4 tractors or at least 2 operators for 4 tractors, so the saving would be between 75% and 50%. Our goal is not to replace all tractor drivers, we want to have less tractor drivers but more qualified ones. Obviously, I might need to pay my fleet managers more than the average; however, it will be more reassured, and easier to manage for me.
In the video below, Mike Harder talks about what growers should consider before investing in autonomous technology.