DroneDeploy's 2022 State of the Drone Industry is an annual survey amongst its customers. In its findings, the company sees a few trends emerge at-length regarding the future of agriculture. "From our results, it's clear that companies are turning to digital twins, drones, robotics, and automation technologies now more than ever. Across the more than 750 customers surveyed in more than 20 industries and over 40 countries, one finding stands out as universal: digital reality capture is critical for the future of any business."
Growing number of drone users
DroneDeploy currently serves 120,000 agriculture users globally. In 2020, DroneDeploy says it saw usage spike across its platform "like never before", with the number of enterprise users on the platform growing by 1.6 times more in 2020 than in 2013- 2019 combined. In 2021, this growth has continued, with 76% YOY growth in active users as compared to 2020.
As recent adopters in industries such as agriculture settle into their drone programs, they expect their drone spend to rise in 2022, says DroneDeploy. "Of the agriculture respondents, 33% planned to increase their spend with 10-50%, and 21% expected to increase spend by 50% or more. Areas of interest to expand include crop spraying and soil sampling," a DroneDeploy spokesperson said.
Laws and regulations
However, this growth in adoption and usage is not without its challenges, according to the survey. As of 2022, 42% of respondents are having trouble keeping track of the changing laws and regulations in the drone space, as compared to 25% reported in 2020.
We're eagerly waiting for the FAA to widely approve BVLOS for drone pilots
"It can be difficult and costly to keep up with pilot certification standards, let alone recruiting and training pilots for the job. We're also eagerly waiting for the FAA to widely approve BVLOS (Beyond Visual Line of Sight) for drone pilots – meaning they can fly a drone beyond their ability to see it. This will enable farmers to automatically deploy drones over their fields and not have to be within sight – or even physically onsite – thereby making operations more automated and efficient," the DroneDeploy spokesperson said.
Labour shortages
Pandemic labour shortages are impacting industries looking to scale their drone operations – 24% of respondents (in agriculture, construction and energy) are having trouble training enough pilots to keep up with demand, while 20% are having difficulties finding drone service providers or eligible pilots.
Holding steady to 2020, a majority of agriculture respondents said the main objectives of digitizing their job site were improved operations (58%), followed by improved planning/design (50%).
"Seed companies greatly benefit from drones as they are able to quickly map fields and identify issues from the air. For example, using DroneDeploy's Stand Count, customers can do offline, real-time stand counts at the field's edge and get a full field assessment of early crop emergence in as little as 15 minutes (a 90% reduction of the time compared to traditional methods). Offline technology is particularly helpful too for large, remote fields," the spokesperson commented.
Text continues underneath image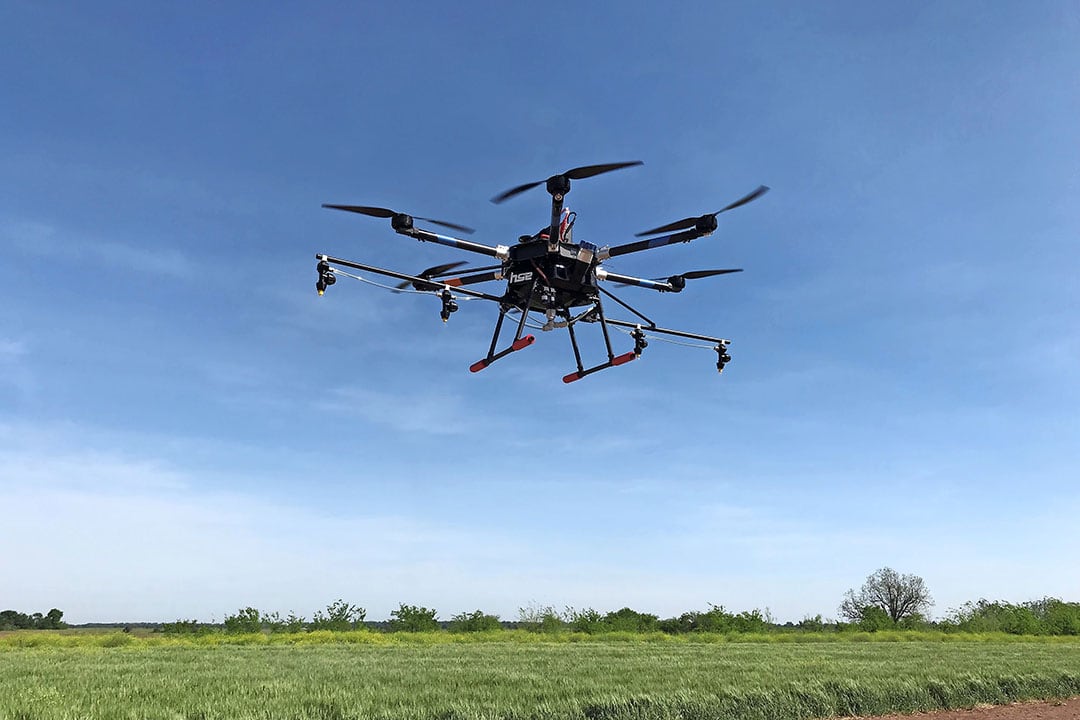 Crop spraying
According to DroneDeploy, "crop spraying via drone is also popular (especially in Asian countries), as large drones can carry up to 50 lbs of spray. In addition, drone imagery can analyze field topography so growers can make more informed decisions on needs like fertilizer and drainage.",
According to the survey, farmers also primarily use drones (68%) and a variety of other sensors (21%) to digitize job sites. In agriculture, these sensors may measure anything from soil moisture and chemical presences to airflow of certain crops.
Increased productivity (67%) is the primary business problem solved by drones in the agriculture industry, followed closely by improved operations (64%) and documentation (60%). Last year, improved operations topped the list at 56%, followed by increased productivity (52%) and reduced cost (45%).
Text continues underneath graph
Automation and machine learning
Agriculture respondents said that automation was more important to their business (57%) than other industries, with 30% claiming it is extremely important. This is also the case with machine learning – 57% ranked the importance of machine learning to their business as an 8 or above, on a scale of 1-10.
However, agriculture saw the least number of respondents with plans to expand beyond aerial mapping in the coming year (58%). 54% of agriculture respondents said drones will become much more common over the next two years than they are today; with 15% saying they will be ubiquitous.
Data security
In the survey, 73% of respondents said data security and privacy are important in their decision to purchase drone technology, with 39% saying it is "extremely important." This comes as a grand majority of respondents (73%) say sharing operational data across their companies is important – which means that customers are making sure that the collaboration and sharing of data within their operations is private and properly secured.