Vulcan is the first intra-row cultivator to offer a fully open architecture for high visibility and reliable weed control in all lighting conditions. The operator can easily monitor the quality of weeding with a quick peek over the shoulder as well as through an in-cab monitor, an interface that also allows the operator to make blade adjustments for added precision. Along with Vulcan, FarmWise announced a teleoperations program that guarantees live remote performance monitoring and support. Growers will also receive software updates, including upgraded crop models, to keep improving the system.
Text continues below video
The weeding quality as a main focus
The plus of Farmwise system is its cutting-edge computer vision that works through an open cultivator frame. Thanks to deep learning models refined by millions of images and 3 years of improvements on the field, Vulcan can recognize a plant from a weed in extreme cases. By knowing the exact position of the weeds, it can then remove weeds placed in the inter-row and intra-row with a high precision, and this in the 20 crops for which the system has already been trained. The result of simpler weeding is lower labor costs and less time spent weeding plots manually.
Text continues below image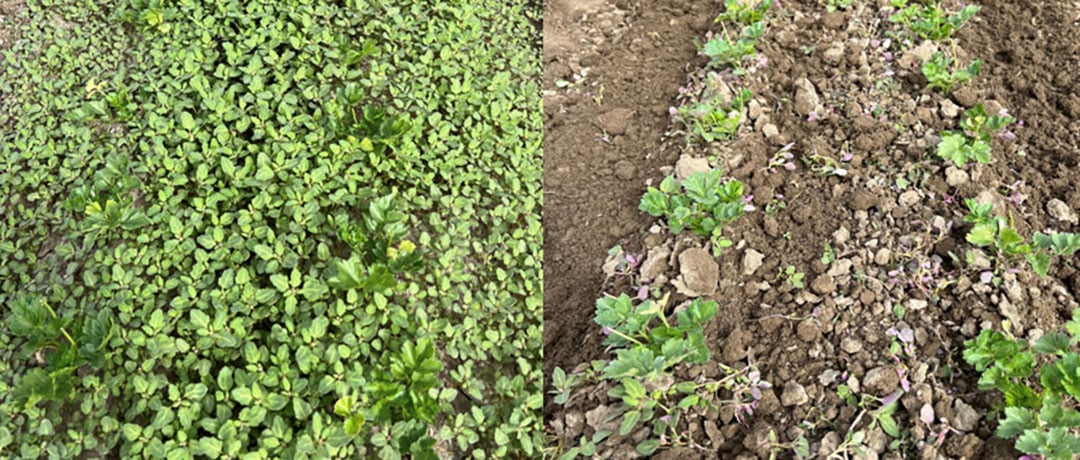 The core elements
Three key technology pieces are brought into Vulcan: an industry-leading vision and lighting system, a proprietary machine learning software trained on millions of plant images, and a precise weeding actuation. These are the core elements making Vulcan a implement able to deliver a high precision weeding.
Text continues below image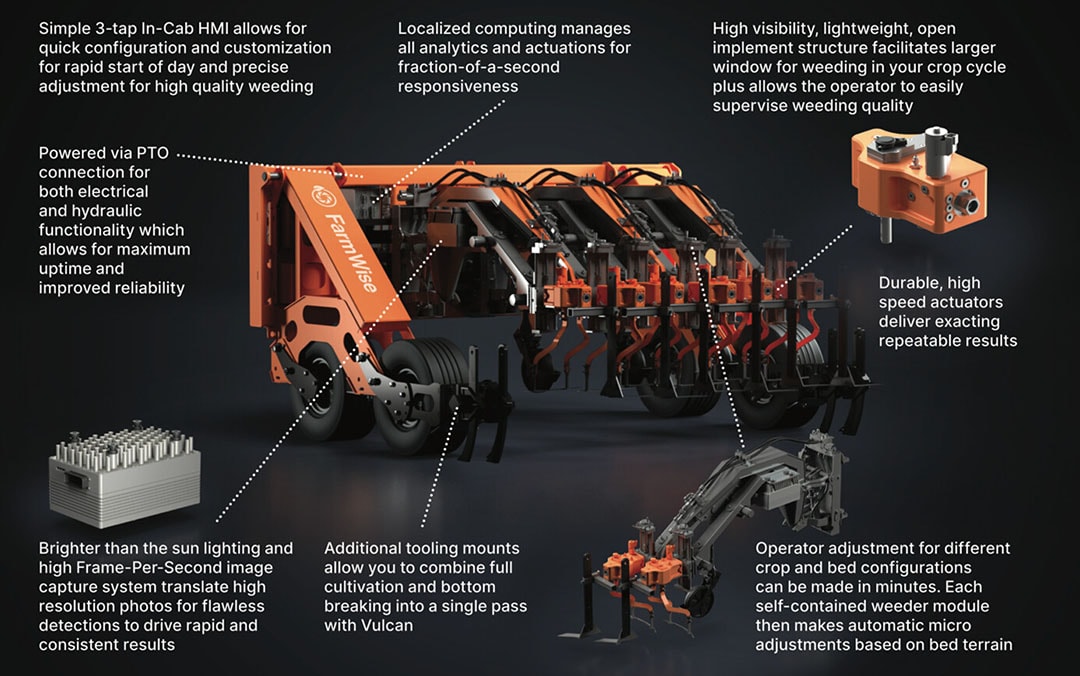 A machine not yet tested in the field
For the moment, only two machines have been built, one of each model and only the single bed model has been tested on the field. Pre-orders for single-bed and triple-bed models are now open, and the first deliveries are scheduled end of the year 2023. This first year will allow Farmwise to test its machines in the hands of farmers and make final adjustments. It is still too early to get feedback on the machine's performance in the field, but according to Todd Rinkenberger, vice president of sales for Farmwise, "with the 3-bed model, we should be able to weed 2.5 acres per hour easy".
Easy to adapt, easy to move
To accommodate the fast pace and diversity of modern farming operations, Vulcan's design ensures it can be quickly moved in and out of fields and reconfigured to handle various set-ups. Vulcan comes in two models, a single- and a triple-bed, foldable which makes it easier to transport on a truck. These two machines give the capacity to weed from 1 to 8 lines per bed, with the possibility to add or remove a weeding arm in under 20 minutes.
In its single-bed model, Vulcan weighs under 3,500 pounds (1.600kg), making it lightweight implement that can be used in wetter conditions than a classic tool and it can be pulled by any industry-standard tractors, if it is equipped with a three-point and a PTO.
Text continues below image
A tool finally available for purchase!
After 3 years of experience with Titan in a weeding as a service model, Farmwise has decided that their technology was ready to be put in the hands of growers. Vulcan will be available for sale in 1 and 3 bed configurations this year. The price of these machines will be around $400,000 for the single bed model and $900,000 for the 3-bed model.
If the price of these machines may seem high, it is nothing compared to the labor costs spent each year by California growers to weed their fields. With rising costs and farm labor shortages, there is a need for automated alternatives to manual tasks, it is a top priority for the vegetable growers.
How much surface area is needed to make these machines profitable? It's hard to say now. According to Farmwise, their machines can eliminate the need for hand weeding crews for over 20 vegetable crops.
Text continues below image
What about Titan robot?
The Titan robot is the first autonomous weed control system designed by Farmwise to help farmers weed their crops. During the last 3 years, it was with this machine that the company crisscrossed the California valley offering its weed control service. With the arrival of Vulcan, which is an implement, what will become of this robot project?
For the time being, the company wants to focus on weed control quality and this is what they have implemented with Vulcan. According to Todd Rinkenberger, "The robotic project is not over, we needed an intermediate step, and a smart tool, easy to use, light and efficient, that's what the growers wanted now".
Text continues below image