For the second year, Future Farming approached manufacturers of robots for open field crop production from cereals to seed potatoes and from almonds and oranges to strawberries. The initial buying guide was already pretty extensive with valuable and useful information of over 35 field and harvest robots. The buying guide is to provide an overview of robots that are available for farmers and contractors to actually buy, lease or hire in 2022.
As farm work cannot be 'autonomated' with concepts, empty promises and undisclosed pricing, Future Farming decided to tighten the thumbscrews and only include those robots that will actually be available in 2022 against a known price level. For this reason, some 30 percent of last year's participants had to be excluded from the latest buying guide. Some of them didn't respond to our call. Others experience a delay in commercialisation and undoubtfully there's some that lack funding and maybe some ceased to exist.
Although not part of the initial robot catalogue, it was striking to read early July that Abundant Robotics, an American agricultural robotics company founded in 2016, shut down its fruit harvesting business because 'it was unable to develop the market traction necessary to support its business during the pandemic'. According to Crunchbase, the start-up raised a total of $ 12 million from amongst others German BayWa Group and Kubota Corporation.
Text continues underneath image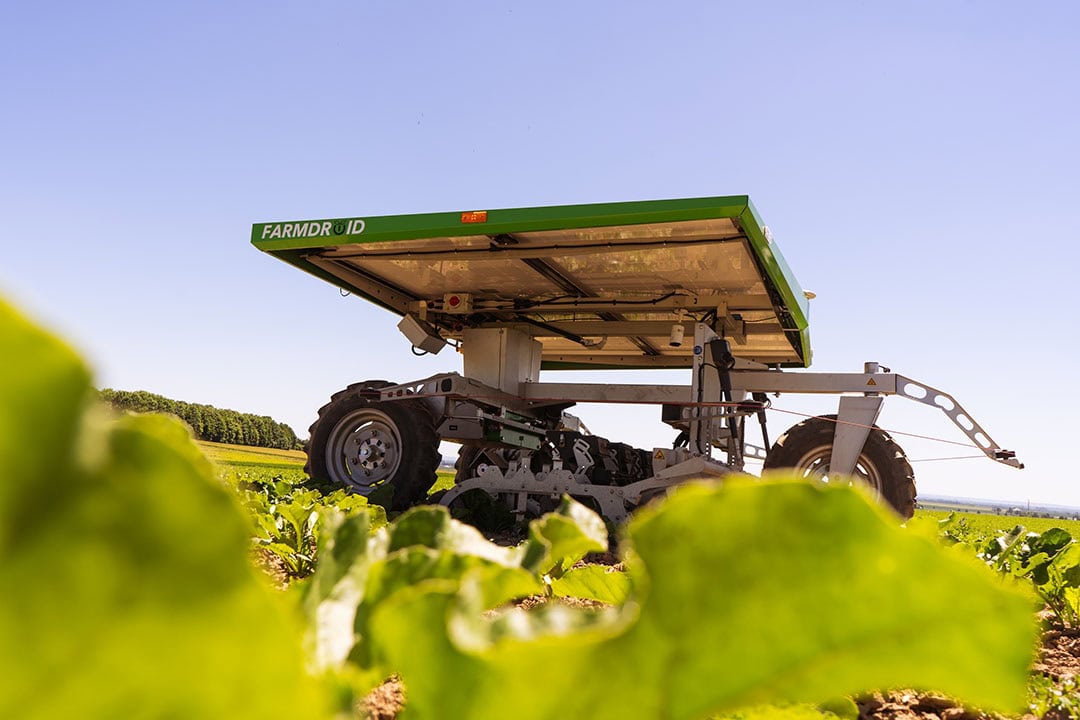 More than 100 manufacturers
The ongoing Covid-19 pandemic shows to what enormous extent farmers have been counting and relying on (foreign) manual labour to mainly get their weeding and fruit and vegetables harvesting done. Climate change puts stress on crop care and irrigation management, available work windows and it intensifies herbicide resistances. Let alone governmental strategies and urgence to lower the environmental impact of farming and to encourage (obligate) the reduction of pesticides usage.
It's just a few developments that accelerate and amplify robotic developments in farming. It's therefore not surprising that over 100 manufacturers and startups were approached for inclusion in the robot catalogue. Some 60 of these are new compared to last year. A minority didn't respond to our call and most haven't reached market readiness, they're still in a concept phase. Robotic concepts to which Future Farming and FIRA, the International Forum of Agricultural Robotics, offer a stage as well through the Best Field Robot Concept Award 2021.
Text continues underneath image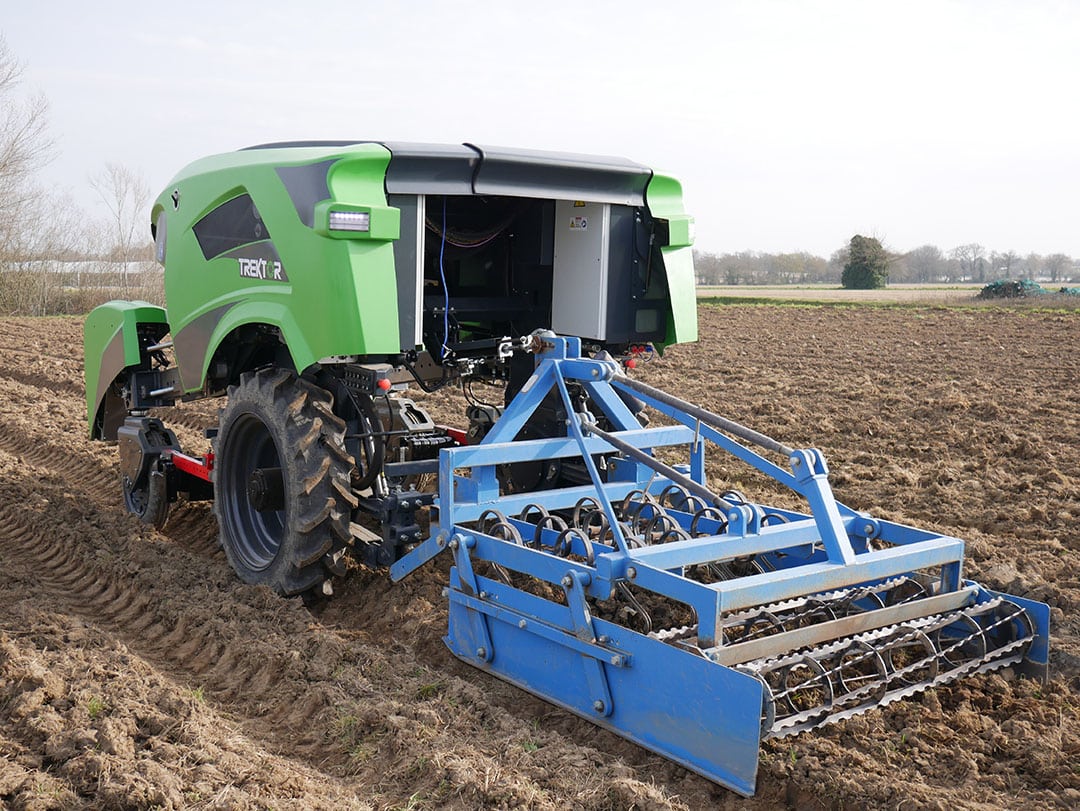 Catalogue includes nearly 40 field robots
All in all, nearly 40 robots are included in this year's catalogue of which about 33 percent are new. Three of them say that they started developing their robot only this year and are planning to have it available to farmers next year already!
A growing number of robots is powered by alternative energy sources compared to 'traditional' diesel powered combustion engines. Batteries and electrical drive trains are popular types of energy and propulsion but how long can they operate on one battery charge? This is quite a distinctive buying reason if you want it to operate remotely without direct supervision! Maybe Wiferion's automatic and wireless charging system debuting at the FIRA can provide a solution to this.
The same goes for lifting capacities and the availability of a power take off (PTO) is you want it to carry and drive existing implements and machines. You'll therefore find this type of information in this year's catalogue as well. The catalogue by the way also contains the first hydrogen powered robot tractor: the Dutch H2Trac EOX 175 priced at € 420,000 (US $ 473,000)!
Text continues underneath image
Most field robots are multipurpose
23 robots in the catalogue can be characterised as multipurpose and thus capable of performing more than one single task or operation. There's big and small robot tractors and implement carriers in this category such as the AgroIntelli Robotti, AutoAgri ICS20, Elatec E-Tract, FarmDroid FD20, Lambers & Exobotic Technologies WTD4, Raven OMNiPOWER, Sitia Trektor and SwarmFarm SwarmBot.
A few of them is focussing on transportation such as Burro. This 175 kg battery powered carrier transports amongst others hand-picked fruits. The company says they've 'focused on mobility, first, rather than picking or weeding, because we can sell a product relatively quickly and widely, that creates value, while laying the groundwork for more comprehensive automation over time.'
One example of more comprehensive automation is shown by AgXeed and Hol Spraying Systems with their AgBot 2.055W3 autonomous orchard sprayer that is even to be capable of refilling its spray tank automatically!
Text continues underneath image
Main birth ground is United States
Alike in 2020, most manufacturers and start-ups in the buying guide are from the United States, 9 to be precise and that's two more than last year. With Canada included, North America is represented by 11 manufacturers. The number two also remains the same and that's the Netherlands with 6 participants. This number stayed the same but it must be noted that two former participants have been excluded because they failed to reach expected market readiness for 2022. France has 5 robot manufacturers that are present in the catalogue, also the same but one of them is new. From Europe as a whole, 19 manufacturers are listed and Australia is represented by SwarmFarm Robotics. There are no participants from Africa, Asia or the Middle-East.
Sales prices
If we consider the mobile field robots, then sales prices start at around € 10,000 (US $ 11,400). Yet, this € 10,000 is a starting price that will quickly go up to € 30,000 (US $ 34,000) for a fully operational version. Robot tractors and implement carriers generally range from € 50,000 (US $ 57,000) to € 250,000 (US $ 285,000) with exceptions up to € 330,000 (US $ 375,000). There are four harvest robots included ranging from € 95,000 (US $ 108,000) to € 375,000 (US $ 398,000) or € 0.03 (US $ 0.04) per broccoli head harvested.