When it comes to smart machinery, the most striking news at SIMA 2022 was the autonomous telehandler Loadix, developed by start-up Manurob, and the new brand name for sprayers from Excel Group, called Spectre, about which we wrote earlier.
But there was much more smart machinery news to see at the French fair. In the overview below, we have listed the most important news for farmers of the future.
NIR sensor for solid manure
The French brand Pichon, which was recently acquired by Danish company Samson, is working on an NIR sensor for solid manure. Pichon is collaborating with a French university for this and it is still a prototype. Currently, Pichon is collecting data to create a good calibration line. The next step and Pichon's goal is to have the chain and valve of a manure spreader controlled automatically based on data from the so-called Opti-Sensor. For example, you could set a desired amount of nitrogen per hectare.
The sensor is mounted in a side wall, just in front of the spreader beaters. According to Pichon, one Opti-Sensor in the wagon is sufficient because of the homogeneity of farmyard manure. The sensor measures organic matter, dry matter, nitrogen, ammonia, potassium and phosphate.
From diesel tot electric drive
Electrification of vehicles is one of Dintec's core activities. Here's a complete built-in unit for converting a diesel truck to electric drive. The whole thing looks a bit like a hydrogen engine, but is not. Little or no hydrogen technology could be seen at SIMA 2022, for that matter.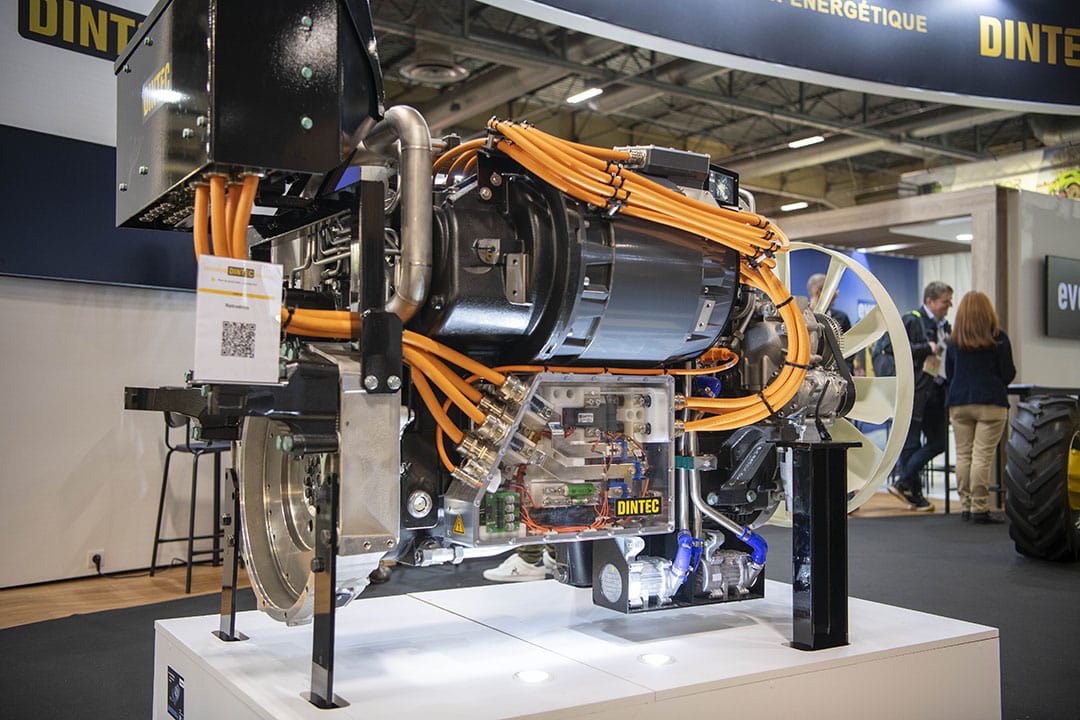 Weighing system for potato harvester
You don't need to be at Case-IH or New Holland for a potato harvester. Nor will you be. Nevertheless, CNH Industrial was showing in Paris an AVR row cultivator with GPS correction behind a tractor and also a weighing system for a potato harvester. Through AGXTEND, which is part of CNH Industrial, it supplies components for precision farming such as GPS-controlled side shifts, correction of hoes and also weighing cells for yield measurement.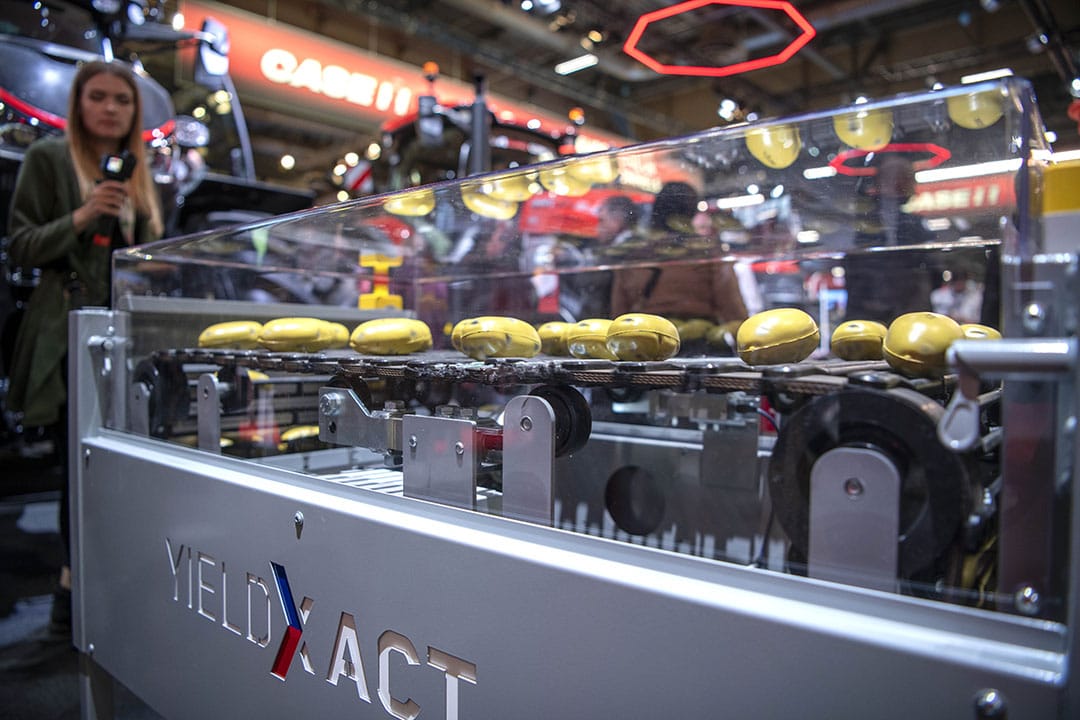 New Holland methane tractor
New Holland can now also supply the T6.180 methane tractor with 24/24 Dynamic Command. This is said to transmit power 9 per cent more efficiently than the 16/16 Electro Command semi-powershift and allows lower engine speed on the road. Controlling the Sidewinder system is now optional, as is a 460-litre interchangeable gas tank in the front linkage. This can also hang in the back of the hitch for front loader work, for example. Previously, the extra tank was always permanently attached. The tractor itself still has a 190-litre tank.
Electric weeding
CNH has been on the market for some time with the Zasso electric weed killer and is now working on a variant for row treatment in addition to field cultivation. This is still being trialled, mainly to experience if and how electric weeding between rows affects the cultivated crop. The intention is to also show results of how electric weeding works in potato cultivation at Potato Europe next year.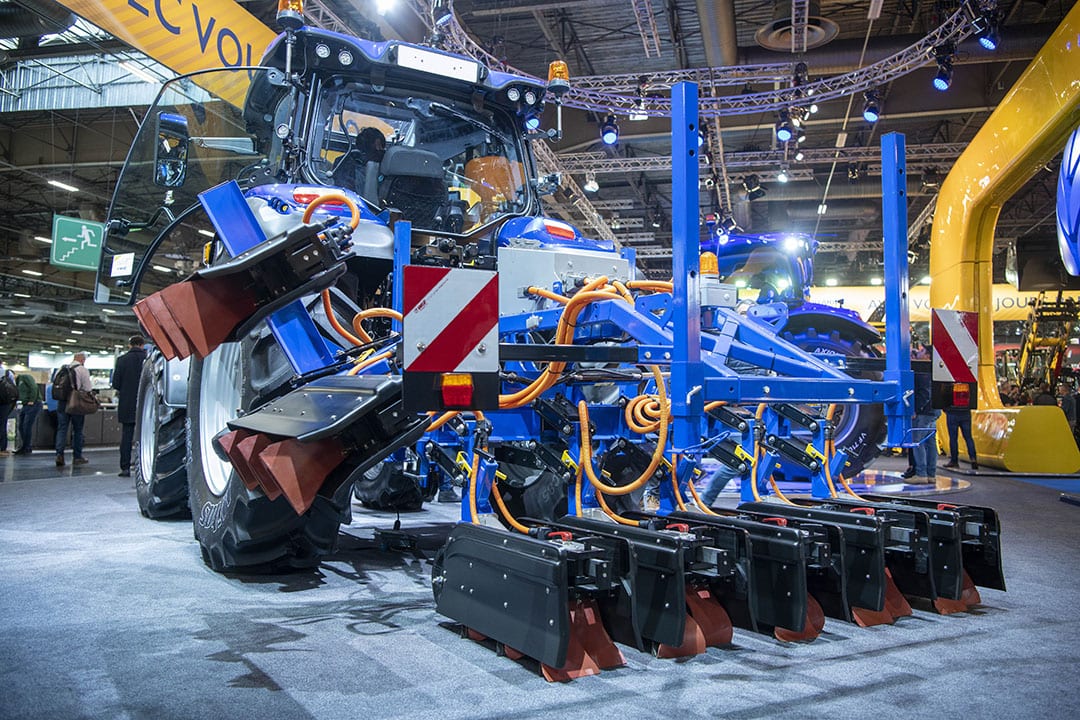 Autonomous New Holland T8
Case IH showed its autonomous Magnum. In Paris, the New Holland T8 was also there as an autonomous tractor. New Holland chose to display the tractor as a semi-crawler. The autonomous Magnum, which is already in operation in South America, does appear to be a slightly different version of the Magnum in detail – it would not be equipped with AFS Connect, among other things. The first, futuristic-looking Magnum without a cab featured ASI technology, but the current version is controlled by technology from Raven.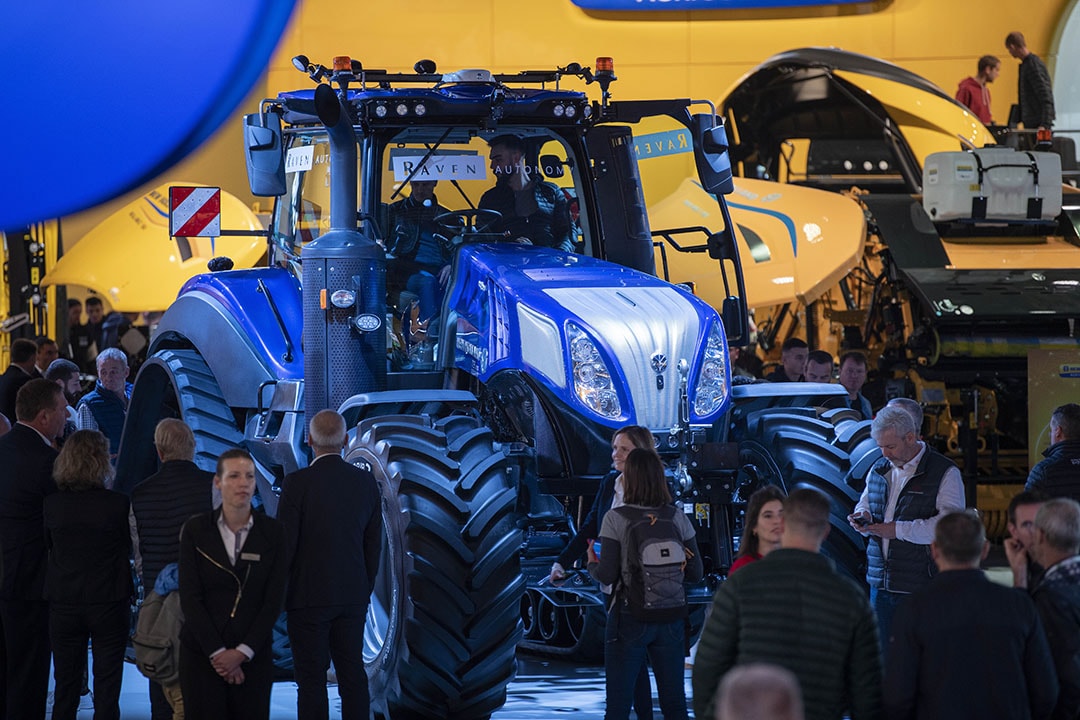 In America, the same technology is already currently being used for autonomous driving with the Trident self-propelled fertiliser spreaders. Legislation still stands in the way of introduction in Europe, but autonomous tractor driving is currently being tested in the Netherlands, although still without implements.