Shoveling grain inside the bin is hard and dangerous work. It's a necessary task for many farm families, however, and one with few alternative means of completion.
It's a state of affairs some are trying to change – including Grain Weevil, a start-up company based in the Midwestern United States, as well as the larger GSI Grain systems.
Grain Weevil: Robots in the bin
Inventors Ben Johnson and Zade Zents have developed a grain bin robot to help people avoid what is an uncomfortable and hazardous workspace. Citing death and injury rates related to grain bins, they hope their gyrating robot design will offer growers an effective solution.
Resembling the crawling creature after which it is named, the Grain Weevil robot drives on top of the grain mass using an auger drive system. It can be used to level-out grain for better aeration, and help shift grain towards unload points when emptying the structure.
The Grain Weevil encourages gravity to help us move grain instead of just pushing it around
"As the robot maneuvers on the grain it increases sediment gravity flow. This requires a robust set of sensors and code to keep the robot on task," says Zents. "Basically, The Grain Weevil encourages gravity to help us move grain instead of just pushing it around."
Text continues underneath video
Autonomous operation
Not yet commercialized, the company has been testing the device on farms across the Midwest. Central objectives include the evaluation of its effectiveness on different types of grain surfaces, best engagement patterns for different bin conditions, and the evaluation of prototype design changes and software development for autonomous operation.
The company reports it expects the trial process, plus manufacturing and certification preparation, to take until autumn 2022. Sales will begin afterwards, starting in the United States.
GSI: Airbags for safety
For those in the market for a new storage structure, GSI markets "flex-wave technology" in its Z-model bins. First released in 2017 and 2018, the design makes use of two inflatable liners fixed to the side and bottom of the bin. By inflating alternatively, the bags push the grain mass into a centre reclaim.
Speaking during an interview at the 2018 Farm Progress Show, John Peterson, GSI's marketing and communications manager, said the system completely unloads the bin without anyone having to go inside.
Text continues underneath video
The bags themselves operate at .1 PSI, meaning a standard glue patch can be applied if perforations occur. Aerations is enabled with the addition of interior tubes connected to the fan system. "That little PSI will push up to 100 tons of material," says Peterson.
Automation has potential
Most growers looking for better bin cleaning methods have historically looked to bin design rather than additional implements. As described by James Dyck, crop systems and environment engineering specialist in Ontario, Canada, this often takes the form of interior hoppers to minimize the need for sweeping.
Text continues underneath image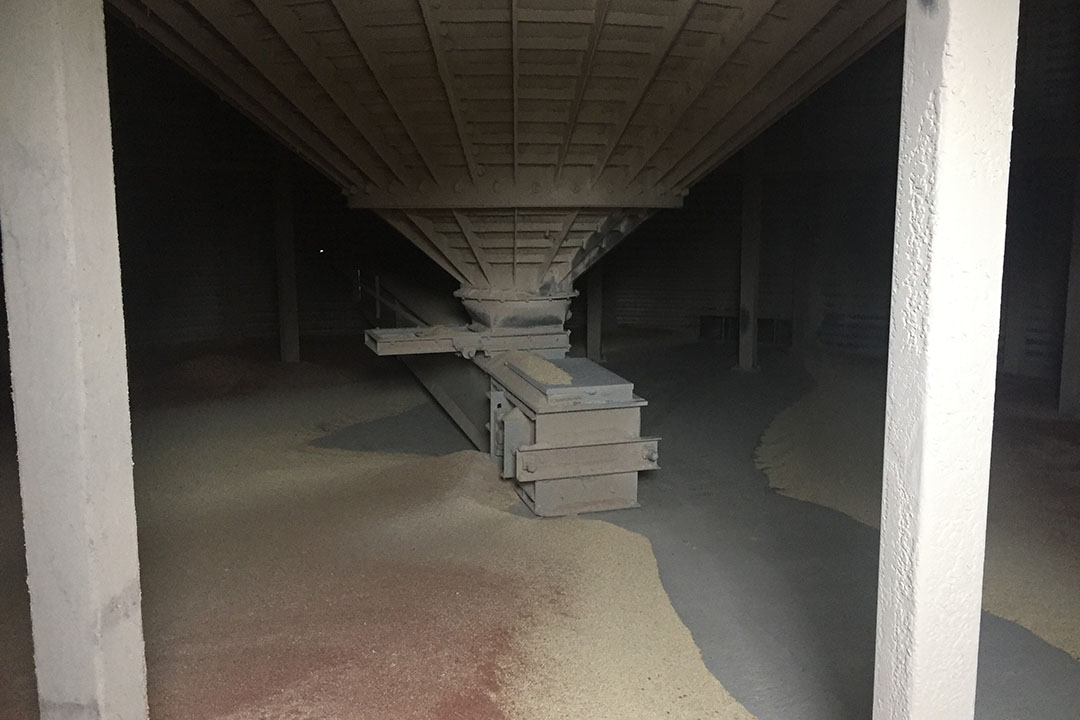 "You lose some bin volume to the hopper, especially in larger bins, but cleanout is easier," says Dyck. "However, it means grain depth will be uneven, which will make aeration more challenging, so there are trade-offs. It probably makes the most sense for bins that regularly get changed over, rather than for long-term storage."
The inflation-based option provided by GSI is another example of a design which could prove valuable to some farmers, specifically those expanding their grain holding capacity. Similarly, Dyck believes robots such as the Grain Weevil are worth exploring for the safety benefits, as well as the potential labour and time savings – shoveling and sweeping being rather time consuming.
The unknowns
There are, of course, a variety of unknowns. How long the battery in something like the Weevil will last and how charging would work, ease of retrieval, whether its completely dust proof, whether parts are available, and a wide variety of other uncertainties all have to be addressed. "I think the unknowns can be resolved with further development…being a newer product I'm not sure [Grain Weevil] has worked all that stuff out yet."
Elbow grease hard to replace
Himself a veteran shovel operator, Dyck reiterates bin sweep augers – both permanently installed and portable – largely remain the standard piece of bin cleaning tech. A lot of shoveling and sweeping is thus still required to ensure bins are completely cleaned.
"The sweep auger will miss some grain right along the wall, plus they are limited by available power sources since they are either gear drive from the unload auger, or separate electric drive via extension cord," he says, adding any new tool needs to be robust enough to handle the grain inside the bin, and the bin environment.
Overall, manual labour in the hazard-laden confines of grain bins is still the name of the game – though the potential for automation is substantial.