"The traditional way was to take a look at it, see if there is moisture or any bugs, and smell or taste it", Mr Kennedy explains. "But now farmers can put our spear or spider with multiple sensors on or in a silo or bunker and monitor the quality. This gives them the ability to wait until they get a better price."
TeleSense offers users an intuitive app, with easy-to-use software. Growers or handlers get a real time insight of the temperature, moisture and Carbon Dioxide in grain. The app utilises machine learning algorithms to detect and mitigate potential grain storage problems such as hotspots, excess moisture and pests.
Mr Kennedy says that big grain handlers like CBH and GrainCorp and smaller handlers in Australia are already using the technology.
"They have been trialling our multi-sensor spears. That has been going very well. If you have a big 10,000-ton bunker, you can put 20 spears in there and know from what end of the bunker it is best to take the grain out first."
In addition to these bulk handlers TeleSense targets the on-farm storage market; 35% of the grain storage in Australia has been stored on-farm over the last ten years. Mr Kennedy emphasises that grain marketers, traders and exporters don't have a good insight in the quality of this stored grain.
Smart bin
"The main interest we get is for the high value products wheat, barley and canola. And canola is combustible, so it is very important to know when it is heating up. We've had some losses in eastern Australia."
TeleSense is using algorithms to refine its products. It will also introduce a device that creates a 'smart bin' to collect the data, analyse conditions and make its own adjustments to rectify an issue if found. "It will actually learn and give certain recommended actions to an operations manager or grower", Mr Kennedy says.
According to co-founder and CEO Naeem Zafar of TeleSense the wireless sensing, carbon dioxide sensing and advanced analytics of TeleSense are unique. "We do what nobody else does", he says. "We now have about 550 businesses using it, farmers and grain handlers. We have over 5,000 devices deployed in many countries."
The so-called spider has been introduced about three months ago. "It's a machine learning cable free solution for grain management", Mr Zafar says. "Cables break, they are unreliable and usually only help to tell you the temperature. The spider also detects the air, as it moves through the grain mass, and tells you the carbon dioxide levels at the entrance and exit of the silo. That way we can tell what is happening inside. Each silo has its own profile. AI helps to predict when the grain will spoil for example."
Text continues underneath image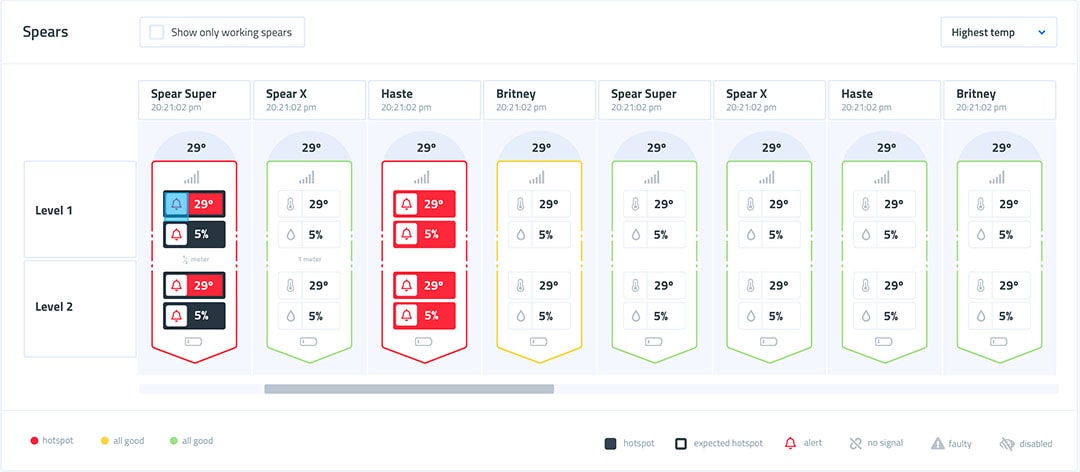 CO2 levels
Mr Zafar says the carbon dioxide monitoring gives users an 'exciting implement'. "Because it can take weeks before a hotspot touches a temperature cable. But with a pest or infestation the CO2 levels start to rise within hours. This gives an early indicator so you can take corrective action sooner."
TeleSense can provide a quality matrix for the different participants in the supply chain, Mr Zafar points out. "Suppose you get an order for 5,000 tons of wheat, and you have wheat stored in 52 bins and 11 locations. You are only going to empty 7 bins. Which bins should you empty? That's a complicated decision, depending on customer specification, the quality of grain and the quantity in each of the 52 bins, the cost of labour and logistics from the locations and the anticipated quality of the grain three or six months out in each of the bins. When you have this information, you can make a smart decision. We collect all this data."
Mr Zafar says that every grower in Australia should have a look at new technology because the competition will also be using it. "Our technology has a strong presence in the US and Europe. We expected the same from Australia but the interest has not been as great there as elsewhere. It would be wise to have a look because this is a world market. And the technology has been proven."