Grain quality management ends once the crop enters storage, right? Not according to Bin-Sense, a Canadian company behind monitoring systems helping growers keep grain quality high, prevent property damage, and avoid on-farm safety hazards after harvest.
Spoilage and fire risk
Spoilage in stored grain is an ever-present risk. Grain harvested and stored with high moisture content –or which, due to exterior environmental conditions, develop higher moisture content within the storage bin – is at a much higher risk of spoilage.
Cases where monitoring could have prevented major financial and production headaches are not uncommon, according to Warren Feist, Saskatchewan-based market development director for Bin-Sense. Even small amounts of heat can spur significant losses, particularly in more volatile crops like canola. With enough heat, fire damage can cost growers both the grain inside a bin, as well as the bin itself.
"I've seen bins being jackhammered," says Feist. "A lot of producers put a lot of money into, you know, the bins are expensive, tractors, inputs into the field at seeding, insurance to go on it, and a lot of times once its in the bin and the harvest is taken off, it's a kind of forget it mentality."
Real-time control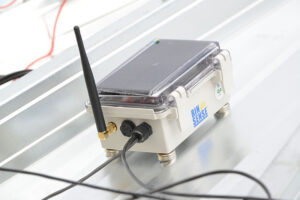 Bin-Sense Live, the company's flagship monitoring system, gathers hourly reports of moisture levels and hot spots via monitoring cables within the bin. Information can be accessed remotely through a smartphone, and settings can be customized to send alerts once temperature or moisture levels surpass a predetermined threshold – if the temperature jumps from 22 to 28 degrees Celsius in a week, for example. Bin-Sense Live systems also allow for the remote operation of fans.
Similarly, Bin-Sense Direct is an on-site handheld grain monitoring reader. Plugging the reader into bin cables directs data to the Bin-Sense smartphone app.
Both systems are designed to be compatible with most bin cable designs, including those measuring both temperature and moisture, or just temperature. Cables and Bin-Sense products are scalable for any size bin, though larger bins do require more internal structural support to effectively mount cables. Installation is thus easier on newly constructed bins.
Costs generally range from $ .03 to $ .06 (CDN) cents per bushel over a ten-year period, with dual-metric cable systems being more costly than temperature reading alone. Additional power sources are not required to run either the handheld or fixed real-time device, the latter being solar powered.
Text continues underneath video
Extending crop insurance
For Anthony Wideman, an Ontario grain grower, the labour-saving capability provided by the real-time system is a clear benefit. For those with schedules and a farm scale suitable to a little extra labour, the cheaper manual monitoring system might be preferrable.
The risk for spoilage never leaves
Himself a producer of corn, soybeans, winter wheat and barley, Wideman says the extra insurance provided by grain bin monitoring systems is the central reason he employs the technology. Also acting as a regional Ontario dealer for Bin-Sense, he equates in-bin monitoring systems to "insuring grain for pennies per bushel." This, he believes, is ever more critical as the size of bins – and the amount of on-farm storage generally – continues to trend upwards across North America. "You know how many dollars you have tied to each of those bins," Wideman says. "The risk for spoilage never leaves."