Within not even four years of existence, Californian startup Verdant Robotics has managed to develop a tractor mounted implement able to tackle weeds to millimetre-accurate precision with crop protection liquids and laser while modelling the crop on the go. The technology is offered through a robot-as-a-service (RaaS) model to American farmers and growers. The startup claims to have already contracted to service 40% of the US carrot market exclusively for the next five years. It is also planning to introduce a multi-action machine for orchards next year.
500,000 plants per hour
Their three-point weeding implement called SprayBox comes with six and 12 row platforms to cover over 500,000 plants and 4.2 acres (1.7 ha) per hour. The SprayBox is a closed box equipped with lighting and cameras to identify and index plants. It also contains equipment to spray detected weeds and its laser weeding system is nearing deployment, Verdant Robotics says.
Crop data builds a digital twin of the entire farm
The crop data collected while scanning builds a digital twin of the entire farm to optimise yield and growing outcomes and to ultimately unlock new revenues for farmers: "We index farms the way Google indexes the internet, tracking each plant over space and time to enable real-time decision making only possible with computation." The tractor in front of the SprayBox has sub-centimetre awareness for navigation. Also in circumstances where GNSS-reception is denied.
Text continues below image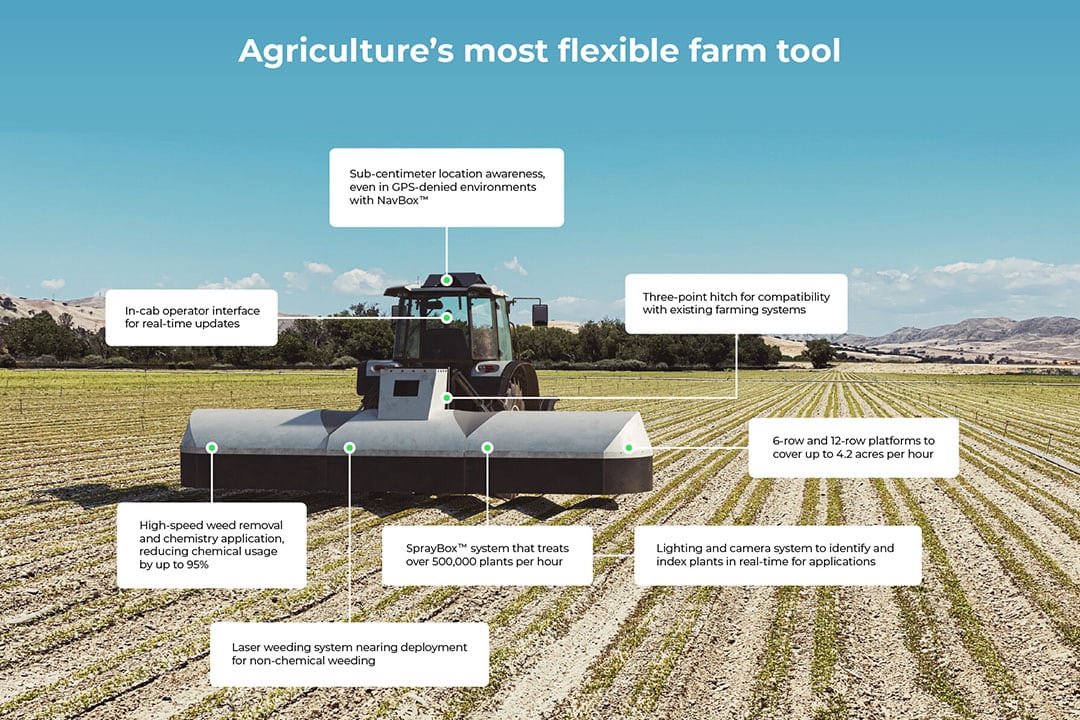 Verdant Robotics was founded late 2018 by roboticist Gabe Sibley, software engineer Lawrence Ibarria and Californian farmer Curtis Garner. Prior to its 2018 acquisition by General Motors, Gabe Sibley was co-founder and CEO of autonomous delivery company Zippy.ai and chief science officer for autonomous taxi company Zoox. Lawrence Ibarria previously served as director of simulation at Cruise Automation, the self-driving car company of General Motors and spent 10 years at NVIDIA before that.
Prior to cofounding Verdant, Curtis Garner was senior business analyst for Bowles Farming, an 12,000-acre family-owned and operated fresh market and specialty processing farm growing 21 different crops in organic and conventional production.
So far, the company has raised $ 21.5 million from various investors and building upon that, it plans to commercialise a precision multi-action machine for orchards by 2023. Over the next several years, Verdant Robotics furthermore aims to deliver complete robotics solutions globally.