The digital twin offers growers a digital 3D model that can assist in on-farm decision-making. Agronomeye captures ultra-high-resolution imagery, to give farmers a highly detailed, dynamic digital representation of their farm. The advanced modelling capabilities and dynamic overlays of the technology enable farmers to understand the risks and opportunities of their property.
AgTwin 3D platform
Agronomeye is the result of a collaboration between Australian science organisation CSIRO and Microsoft. It delivers its technology with a web-based 3D platform called AgTwin. "You can log into the platform from anywhere and get access to your farm. You can get the insights and also share them with your stakeholders", CEO and co-founder Stu Adam explains.
Agronomeye was started as a business in 2015 and initially focused on capturing high-resolution imagery for farming applications with drones. "But we eventually realised what a heavy lift it was", says Mr Adam. "It wasn't stacking up. And this coincided with the drought here on the east coast of Australia. No one needed to tell farmers what was wrong with their crop at that point in time. There was nothing in the ground."
The Sydney-based company decided to have a good look at its operations. "We thought there was a more efficient way of capturing that data", Mr Adam says. "More scalable. We moved away from drones and moved into manned aircraft capture. And using that high-resolution data, that is so difficult to capture, for a number of different purposes."
Text continues below image
Digital twin for water management
Agronomeye first targeted the management of water flows across landscapes. "During the drought, farmers became increasingly conscious of the need to be more efficient in the way they used water. If you can clearly identify the water flows across your landscape, you are in a better position to understand what is the best place to build a dam for example. You can be more water-use efficient and understand the risks of erosion. We started there and this is still fundamental part of our dataset."
"We also evolved out into vegetation analysis. Identifying trees – their role in carbon – and how do trees relate to erosion management, biodiversity and animal welfare. This gives farmers a better appreciation of their farming system."
Agronomeye enables farmers to integrate their own data or datasets from other technology providers. This could be yield or soil data, dynamic data from satellites, sensors, or livestock movements. "The more analytics and insights that can be delivered at the farm landscape level, the better", Mr Adam says.
The digital twin can be used for an increasingly larger number of purposes, Mr Adam points out. "From driving productivity, agronomy to targeting green finance, assurance, sustainability reporting and real estate."
Ultimately the data can give farmers greater resilience
Agronomeye will first capture the necessary data for farmers, and then work with the landholders to better map their property. "The data that we are capturing, opens up opportunities for the individual farmer to take that data in a direction that suits them. One farmer might have a problem with erosion, while another farmers sees an opportunity for biodiversity. Ultimately the data can give farmers greater resilience."
But it's not just about the farmer, Mr Adam emphasises. "It's also about the person on the other side of the transaction. The banker, the agronomist, the broker, the brand, whoever the stakeholder is. We work closely with them too, to make sure there is a clean flow of information and data across the supply-chain."
Text continues below image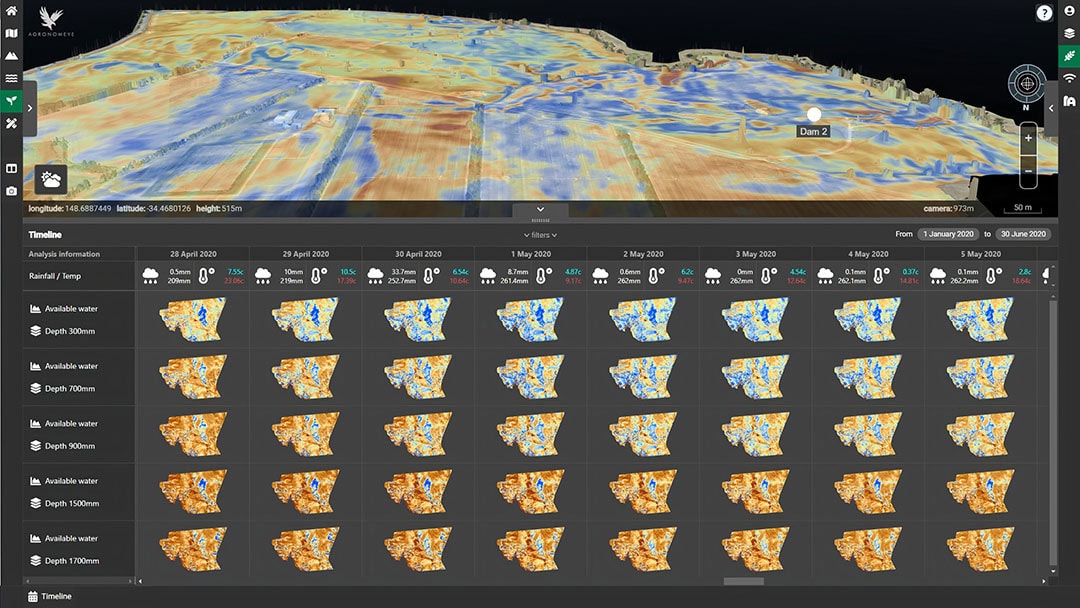 Carbon credits
Agronomeye is now working on delivering high-integrity carbon credits, based on an intimate understanding of the vegetation across the landscape of a farm. These carbon credits are generated under the HIR method, and are based on the carbon that trees or vegetation (biomass) growth remove from the atmosphere. The company is also developing a mobile app that enables farmers to capture data in-field.
Mr Adam says that virtually all data in agriculture is currently delivered in 2D. "Contextualisation of all on-farm data in the 3D environment of AgTwin means more clarity and confidence", he says. "This is useful for a wide range of applications in vineyards, broadacre cropping or in a paddock. If you get a more water efficient farm, you can create an uplift in yield for example. And we see that the market increasingly demands transparent reporting on the supply-chain of a commodity. With the right data, you can offer that transparency."
Flexible business model
Agronomeye says it uses a flexible business model in relation to the costs of the digital twin technology. "Ordinarily there is an upfront fee, which is basically cost recovery to get the farmer set up. And then there is a subscription to the platform, that depends on the number of integrations and the size of the farm. We are working hard to bring the cost of adoption down, by making sure the farmer and the stakeholders realise benefit and are both willing to pay. That takes the burden of the cost from the farmer."
The technology will available in all states of Australia in 2023, for a relatively low price, Mr Adam says.