This is not a story about yet another startup or tech company developing field robots or autonomous vehicles to earn money with. This is a story about the son of a biology teacher and CEO of a data technology company with the ambition to make growing organic – chemical free – food affordable for growers, for consumers and first and foremost to produce organic food for his 30 employees and their families.
'Son, don't become a farmer'
This story is about Dutch entrepreneur and innovator Arend Koekkoek, the man behind the ideas of data technology company Idea-X and Pixelfarming Robotics. "When I grew up, my dad, a biology professor, told me not to become a farmer because he was against the use of chemicals such as glyphosate in food production. So, I went to university to study electronics. That was in a time that computer backups were still done on offline hard disks. I earned some money with collecting those hard disks and bringing them to a secure place/safe. Aiming for more efficiency and yes, also less work for the same wage, I wrote a software program to store the backups online so I didn't have to cycle around anymore, offer the same or an even better service and meanwhile work on something else. That is exactly how I approach food production with the help of robots: automate time consuming and expensive manual labour and tasks to make the cost price of sustainable chemical free food production comparable to that of conventional non-organic food", says Arend Koekkoek. "That way of working is however not feasible for large scale cereal, corn and oilseed rape farms. You have to adapt your way of farming to make it feasible and affordable. We believe that with pixel farming, farming by the pixel, by the square decimetre, you can."
Text continues underneath image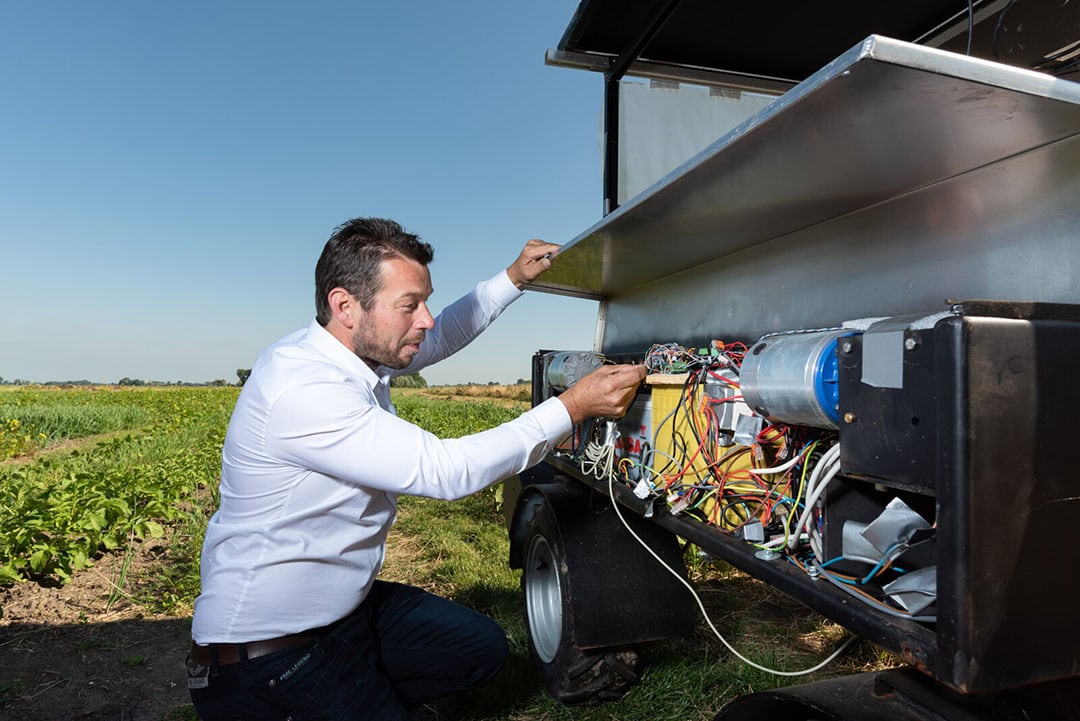 A 3D printer for outdoor food production
To put his money where his mouth was, Koekkoek went looking for a farm to buy. A search that wasn't particularly easy but he managed to find a 9-ha farm. "Just about suitable for the food production for my 30 employees and their families offering each of them a 1,000 square metres plot." That was in 2017 and he went on the lookout for technology to tackle weeds automatically.
At the same time, his company Idea-X built a website where consumers could buy organic food by the pixel, by the square decimetre. "The pixel size was derived from the pots with herbs you can buy in supermarkets, like basil. We were asking € 10 per square metre (€ 100,000/ha) and the idea proved to be such a success that we really needed to find a solution for the actual food production!"
The first robotic concept that Koekkoek and his team found feasible, was the FarmBot Genesis. "That basically is an open-source 3D-printer fitted to a frame to seed, water, weed and scan crops currently costing € 4.428/ US$ 4.995. In 2018 we fitted that FarmBot to a driving frame now referred to as Robot Zero. Our aim was to convert data like weather forecasts into watering and growing plants automatically based on our computer, data and mathematics knowhow. Similar to and inspired on the autonomous greenhouse challenges organised by Wageningen University & Research (WUR) and Tencent. Building a robot wasn't a goal on its own, just a means of getting there but it did give the name to out robot company: Pixelfarming Robotics."
Text continues underneath image
Developing the vision bar
In hindsight, the startup made a lot of (obvious) mistakes when developing Robot Zero. Mistakes common to non-agricultural innovators but self-evident to farmers. "That 750 kg robot was fragile, not robust, stable on concrete but unstable on farm land, it got stuck in the field, et cetera. I couldn't even work a single hectare!"
Particularly challenging was the detection and recognition of weeds between the pixels of cultivated crops. Alike the initiation of Robot Zero, the engineers couldn't find a vision system on the market that suited their requirements and thus they developed their own vision bar. It works with 3D cameras and can be trained to recognise individual plants within a vegetation.
Their current robot, Robot One, is equipped with it but also the so-called Weedaway, that is developed and used by Dutch company Grootgroener to detect weeds like dandelion, broadleaf plantain and pigweed in sports fields and automatically cut the individual roots off. Treating a soccer field with the Weedaway costs about € 180 to € 200 per field, similar to treating it with a chemical product like Dicophar.
Text continues underneath image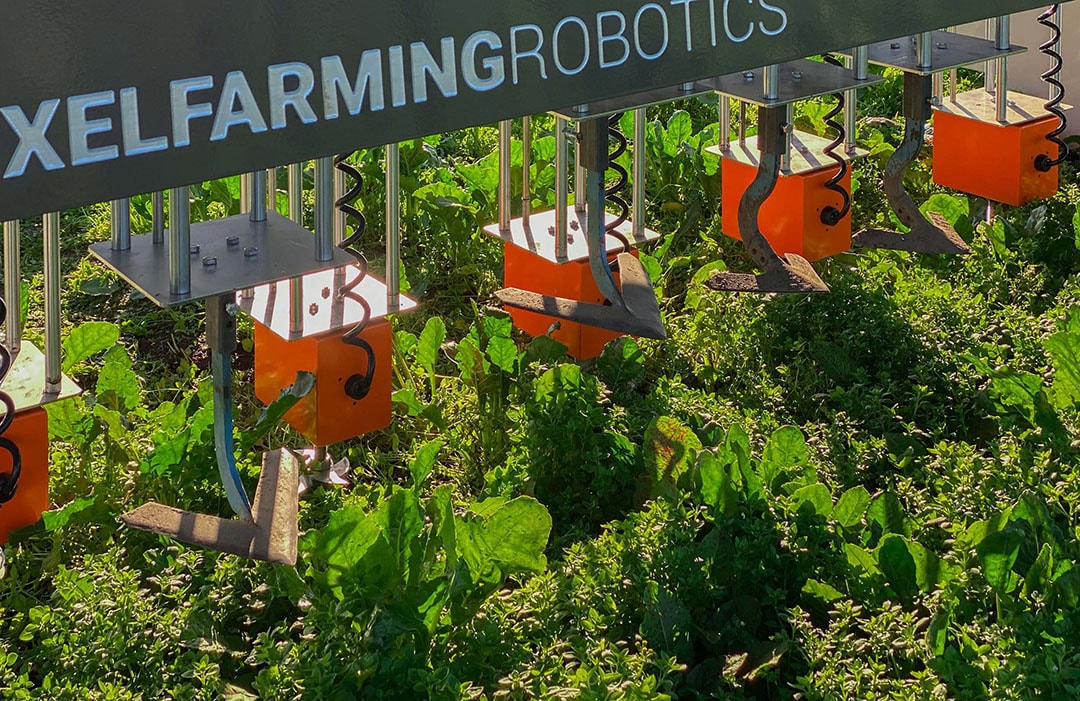 Onboarding program
The first prototypes of the commercially available Robot One were built in 2019. It is electrically powered with solar power panels on the roof with the solar energy being stored in lithium batteries. It weighs about 1,650 kg and should be able to replace up to five labourers. All other details can be found in the Future Farming field robot catalogue.
Robot One is currently on the market for € 205,000 (US $ 222,000). That doesn't mean that you can just buy one as Pixelfarming Robotics uses an onboarding program for interested farmers. A program intended for early-stage adopters of the robot. At the time of participation, a Robot One is produced, prepared and selected for the 'onboarder'. The robot is then trained to become a full-fledged farm 'employee'.
Until late 2021, five Dutch growers participated in the program. "These five are just above 1 percent of a total of 300 early innovator farmers in The Netherlands that we initially target", says Arend Koekkoek. The program is also open to companies providing knowledge and hard- and software for robotic applications and to companies providing service to the robots in the field.
"The onboarding program is to ensure that farmers have a head start with our robots and technologies. We don't want them to park it somewhere in the yard when it's not working to their liking. Therefore we use as much standard components and parts as possible so you can repair it yourself or with the help of a service provider." The Pixelfarming academy is intended as a sort of digital library with (third party) tools/implements and AI-models and an app store with apps compatible with the robot.
Text continues underneath image
High value crops
Robot One is especially suitable and intended for high value crops such as carrots, fennel, green beans and parsley and for intercropping/strip cropping. "To take maximum advantage from that way of farming, you have to be open to step away from your current methods. Row and plant distances become irrelevant with pixel farming. A way of farming that can result in revenues of up to € 100,000 per hectare thanks to the among others 50 percent savings on manual labour! Research has also shown that chemical free weeding in for instance sugar beets results in a 12 percent higher yield."
'Why want an autonomous tractor?'
The 2022 onboarding program is already fully booked and involves among others a flower/plant farm, a sedum grower, an organic farmer and a conventional farmer. Interesting about the onboarding and operation of their robots is that Pixelfarming Robotics requires operators to have a drone operating licence to work with Robot One. "That is because everything about drone operation and liability is regulated by law and we want the same for using our robots."
Koekkoek is very straightforward about the development of autonomous tractors. "I don't see what difference an autonomous tractor makes compared to a manned tractor. It's still the same weight that causes soil compaction and you still need an operator. With Robot One, you have a lightweight robot that can do everything you want using controlled traffic farming (CTF). Its trackwidth is currently adjustable from 2.8 to 3.6 metres. It's totally flexible, doesn't disturb the soil (no-till), it replaces up to five labourers with its 1 ha/h capacity and one operator can operate multiple robots."
Text continues underneath image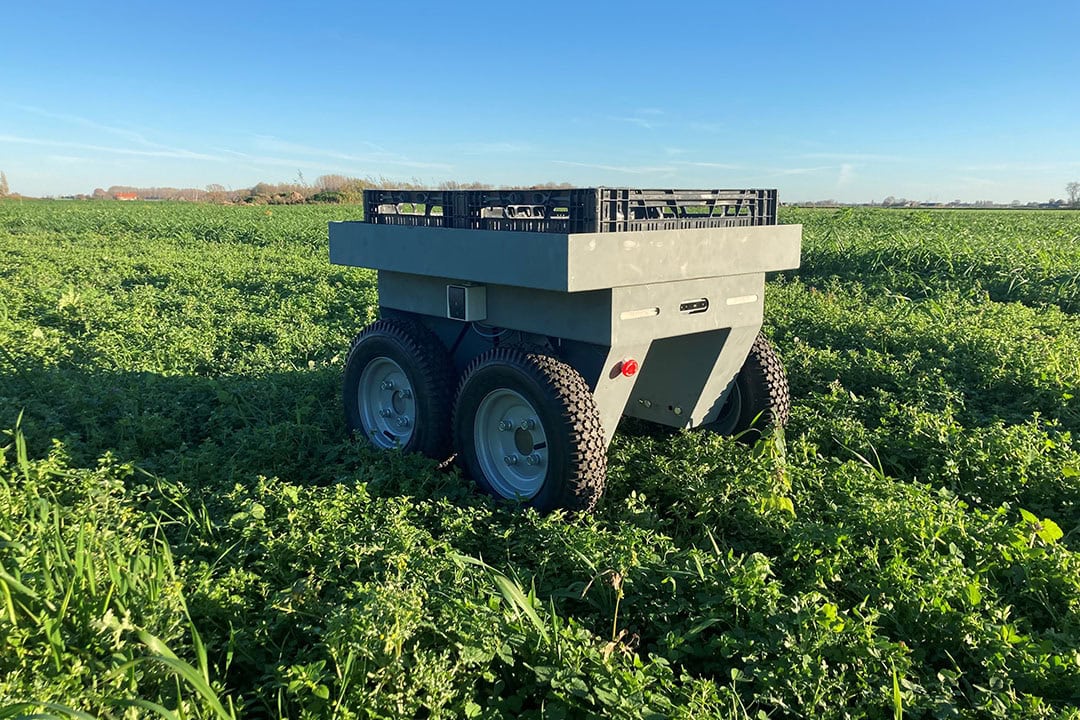 Predictive plant maintenance
While Robot One is focussing on crop care or rather predictive plant maintenance as Koekkoek likes to say, Robot Two, due for 2024, will be aimed at harvesting individual crops/plants like people do in their own market garden for private consumption. It will have more degrees of freedom than the 10 robotic arms Robot One has. And then there's supporting robot Pixie designed to support Robot One in its work by transporting supplies such as seedlings and for the (future) retrieval of harvested produce and weeds. By 2024, Pixelfarming Robotics aims to have 150+ Robot One's in operation internationally.
"We want to make growing organic – chemical free – food affordable for growers and for consumers and enable farmers to earn more money with this way of farming than with conventional farming methods. Our robots are however not suitable for everyone and are destined to work along other machinery and tractors on your farm", concludes Arend Koekkoek.