Orio is the result of Naïo's cooperation with German seed breeding company Strube. In April 2020, Naïo Technologies, Strube and the Fraunhofer Development Centre X-ray Technology EZRT signed an agreement to develop innovative agricultural robotics solutions. In particular, an autonomous mechanical weeding robot in sugar beets. Since then, the companies have been working together on developing mechanical weed management robot BlueBob.
Text continues underneath image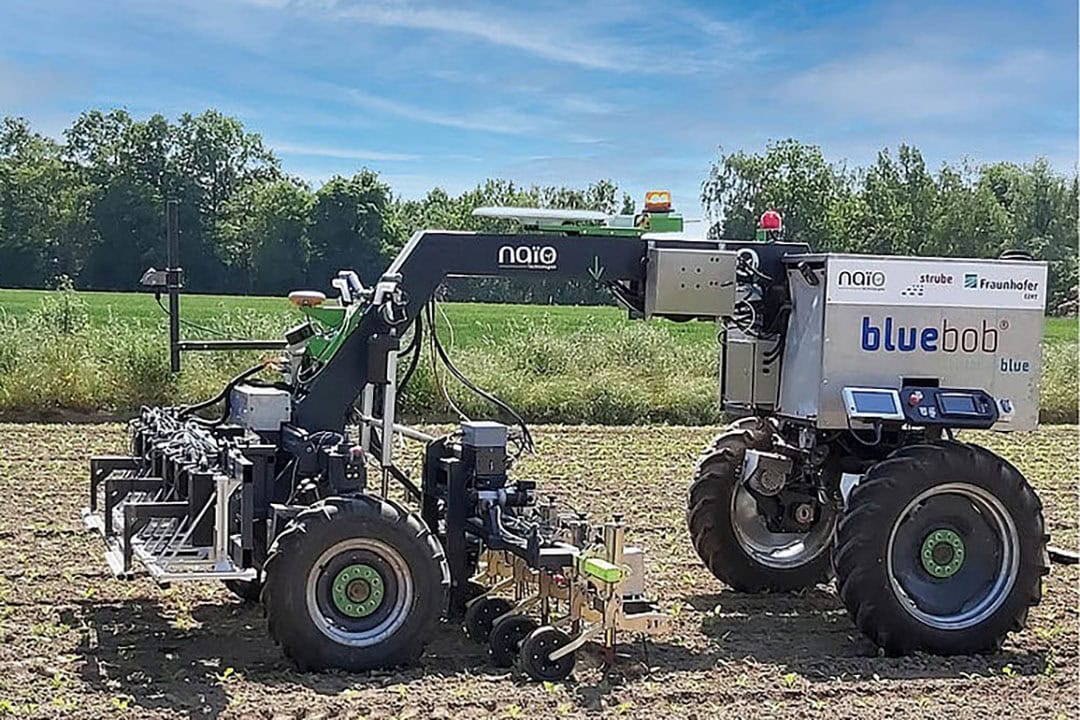 While the first generation BlueBob was based on a Naïo Dino robot, the second generation, launched in May 2021, is quite different. The so-called BlueBob 2.0 is equipped with Naïo navigation technology and enhanced with Strube/Fraunhofer technology for sugar beet detection. This straddle type robot is now being added to Naïo's portfolio as Orio.
Complementary potential
Naïo Technologies says that while Dino being the bigger brother of farmhand robot Oz, the Orio platform is developed as the bigger brother of Dino with more power (20 kW/27 hp), a higher clearance of 1,6 m and the ability to mount higher and wider implements up to 3,0 meters wide. Technically and capacity wise, Orio is also positioned above Dino.
Text continues underneath video
The company notes that Dino is mainly targeted at vegetable growers with acreages up to 20 ha, while Orio is targeting more different types of crops and areas above 20 ha. To do so, Orio has a mechanically adjustable track width of 180 to 220 cm and it can lift 600 kgs with its electrically operated central hitch and 200 kgs with its rear hitch. The central hitch is equipped with a side shift system steered by (optional) Tillett and Hague camera guidance to adapt to crop rows. It has four-wheel steering.
Text continues underneath image
Swappable batteries
Orio is 100% electrical and has 48 Volt, 105 Ah Lithium Iron Phosphate (LiFePO or LFP) 30 kWh swappable batteries. The other Naïo robots use the same battery technology. These will give the 1,100 kgs heavy (without batteries and implements) Orio an autonomy/range of 8 to 12 hours at speeds up to 5 km/h.
Orio will be available on a limited scale in 2022 and deliverable from June 2022 onwards for sales prices starting from € 130,000. In California, Naïo will be targeting large growers and contractors with its existing Robots as a Service (RAAS) model. In the future, Orio might succeed Dino, Naïo said.