Participants from all over the world flocked to the 7th renewed edition of World FIRA, 7 to 9 February near by Toulouse, south of France. Together with more than 2000 participants from 75 countries, professionals from the industry, farmers, education and research came to discover the latest innovations in ag robot technology.
And there was a lot to discover. No less than 30 robots took the stage, 20 of which were demonstrated in-field. About thirty innovative technologies were on display.
Organised jointly by the GOFAR association, FR CUMA Occitanie and the Cité des Sciences Vertes, the robot demos were a great success, and showed the participants' interest in a renewed World FIRA.
Text continues below video
Ag robot technology and autonomous solutions
For two full days, based on 10 thematic time slots, robots and autonomous solutions were constantly on the move demonstrating their skills in the fields, whether in vegetables, vines, field crops or arboriculture. The range of functionalities presented at the World FIRA went from mechanical or laser weeding to plant analysis, row or inter-row tillage, seeding and spraying.
Launch of new ag robots and adapted technologies
Some manufacturers chose World FIRA to introduce their new ag robots and autonomous solutions:
Naïo Technologies (France): first public demo for its crawler Jo, a robot that takes tillage tools into narrow, sloping vineyards.
Pixelfarming (Netherlands): exclusive presentation of Robot One, equipped with 10 independent arms and able to carry several tools.
PEK Automotive (Slovenia): demonstration of Slopehelper, a robot that performs all the tasks of the annual cycle in vineyards and orchards (except for harvesting).
EXXACT Robotics (France) unveiled a whole new concept with TRAXX Concept H2, the first autonomous hydrogen-powered straddle tractor for vineyards in the world.
Nanovel (Israel): presentation of its intelligent autonomous fruit harvester, respectful of the principles of sustainable agriculture, and cost-effective.
SICK (United States / France): presentation of solutions from its entire range of automation sensors for ag machinery.
SMC (Japan / France): demonstration of their intelligent fruit-picking arm, the "right arm" of the farmer.
Text continues below image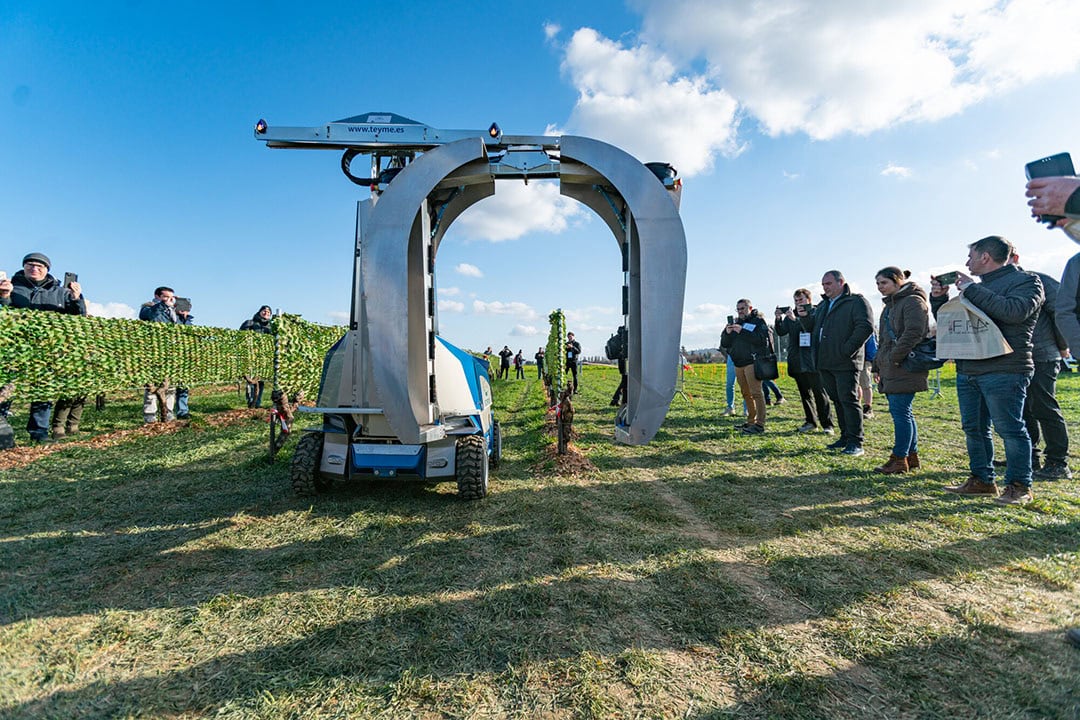 Bluewhite and InsightTRAC winners of the World FIRA awards
The "FIRA Start-up Award" went to the Israeli start-up Bluewhite, which was rewarded particularly for the level of autonomy of its tractor guidance system, its ability to support multiple crops, and its experienced and market-ready team.
Special mention was given to British start-up The Small Robot Company for its autonomous precision farming solution, based on plant recognition to limit the use of herbicides and fertilizers.
Ag Robot of the Year
The next day, Future Farming announced the "Ag Robot of the Year 2023", awarding the InsightTRAC Rover, an autonomous rover that removes worm-infested walnuts in almond orchards.