Since 2018, Canadian agtech company Croptimistic Technology has been paving the path in North America, South Africa and Australia for their SWAT Maps process. SWAT stands for Soil, WAter and Topography. The process incorporates topography, soil electric conductivity data, water modelling and soil surveys to offer farmers insights into field conditions in order to make the best crop management decisions/strategy. Part of the process to evaluate the strategy is to go and do plant stand counts by SWAT zone to verify the variable rate strategy applied by the agronomist. There are 10 swat zones in every field on which the variation in seed, fertiliser, crop protection and irrigation rates is based.
Text continues below picture
Less time consuming, higher resolution
Derek Rude, Croptimistic's vice president research and development, explains how the company (and its associated) precision agronomy partners were initially travelling for many weeks across Western Canada to perform the plant stand counts in as many fields as possible in a short ideal time frame for counting plants. "The time required to conduct the counts manually, meant that we were really only collecting this data in about 10 locations in a field so it was questionable how representative the data was of the entire field. In most cases we spent 80% of our time on the road and 20% of our time actually doing plant counts so it wasn't a very efficient process."
In their desire to scale up the accuracy, capacity and resolution of the plant stand counts, the company eventually turned to smartphone cameras for their SWAT CAM solution. "When performing plant stand counts, we'd use our smartphones to capture the plants. So why not use smartphone cameras for a sprayer mounted solution", Rude continues. "We not only wanted an accurate solution, also a low-cost one with a lesser labour requirement. With UAVs for instance, you have a labour component to capture the data. It's always a balance between resolution and cost to acquire field data. Some Android phones have very good cameras, gps, a cellular data connection, Wi-Fi and they are programmable. So they were a good fit for this application."
Text continues below picture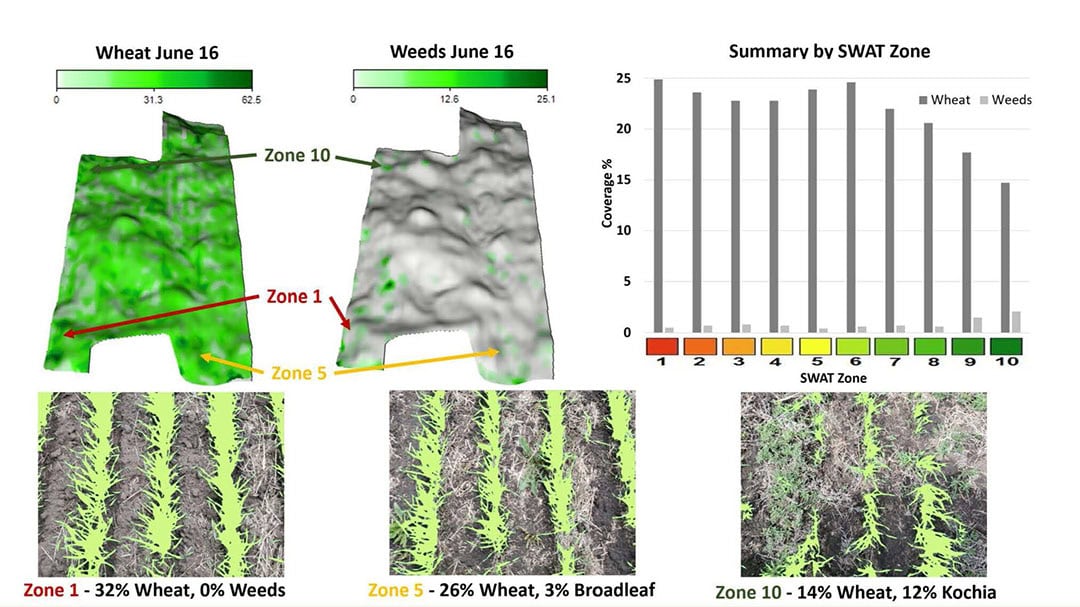 Not a spot spray solution
The SWAT CAM sprayer mounted camera solution consists of one camera on each boom half, approximately halfway, with a seven to eight degrees forward looking angle. Travelling at common spraying speeds of 25 to 30 km/h (15 to 19 mph), an image is taken every 18 metres (60 feet). The images captured on the ground are about 1.5 to 1.8 metres (5 to 6 feet) wide. Rude says capturing such individual images rather than across the whole spray boom is sufficient for the SWAT MAPS concept: "We're sampling, not detecting everything like the see and spray products out there. 20 images per acre (0.4 hectares) are sufficient to tie them back to a SWAT zone." The images are subsequently run through machine learning models to quantify the crop population and weed pressure separately. "Because the data is summarised by SWAT zone, we can better explain why an area may have poor or good crop establishment or low or high weed pressure."
"SWAT CAM is primarily focused on quantifying crop establishment at early crop stages but we have developed a model for Kochia, a problem weed in Western Canada with herbicide resistance issues. We may develop models for other problem weeds in the future as well. Based on the percentage of Kochia present on the images and the trends per SWAT zone, customers have for instance applied the granular herbicide Edge (Ethalfluralin) based on a prescription map based on SWAT CAM data."
No in-cab terminal
An interesting aspect of the SWAT CAM concept is that there's no processing taking place in the cameras or on the sprayer. It's a stand-alone unit that only requires 12 volts key power and can be installed on any sprayer in just 1.5 hours. There's no live display in the cab but you can see the live images with a slight delay on your own smartphone.
The technology is currently mostly used on most broad acre crops including canola (oilseed rape), all kinds of cereals, peas, lentils, flags (lint seed), maize and soybean. In the future, models for cotton and some specialty crops will also become available.