In the 'green fuels' series, Future Farming is taking a closer look at energy sources that can help farmers run their tractors and machinery more sustainable or even climate neutral. The first episode focussed on methane as an alternative energy source to diesel. Methane gas can be produced on farm in biodigesters. Once the methane gas is cleaned to remove the sulphur, it is considered a renewable natural or green gas.
According to current day knowledge, two types of methane powered tractors currently are commercially available: the AUGA1 and the New Holland T6.180 methane powered tractor. This second episode is on hydrogen.
First hydrogen engine developed in 1804
While fuel cell technology (see box) is a dedicated technology to convert hydrogen gas (H2) into electric power, hydrogen can also be used in 'traditional' internal combustion engines (ICE's). In 1985, Canadian researchers successfully converted a 40 hp gasoline powered Massey Ferguson 65 tractor from Rockhaven Farm in Clarksburg Ontario into a hydrogen fuelled tractor.
This however wasn't by far the first combustion engine running on hydrogen. Already in 1804, French-Swiss inventor Isaac de Rivaz designed a stationary engine to power a pump. This engine was powered by a mixture of hydrogen and oxygen gasses. His engine has a claim to be the world's first internal combustion engine and was used in 1807 to propel a carriage.
Both engine and machine manufacturers are debating whether fuel cells or ICE's running on hydrogen are 'the way to go forward'. Both have pros and cons. Passenger car manufacturers such as Hyundai and Toyota are currently betting on fuel cell technology.
A very interesting video from Harry's Farm envisions the future of hydrogen powered heavy machinery according to Lord Bamford, JCB's Chairman. In the video he explains why JCB thinks hydrogen is the best alternative to diesel for farming and heavy machinery. "Battery prices for battery powered electric vehicles (BEV's) will not be going down like politicians say. The main reason is that the raw materials required, such as lithium, cobalt and copper won't come down in price. Politicians are mesmerised by Elon Musk and Tesla with their fresh new way of thinking compared to Volkswagen 'cheating' with their diesel engines. It's not the internal combustion engine that's the problem, it's the fossil fuel."
Text continues underneath image
Batteries nor fuel cells for JCB
Lord Bamford: "Farmers want to work 18 hours shifts and BEV's are not suitable for that because batteries are too heavy and also too expensive. A 20-ton excavator for instance, requires at least 8 tons of batteries to work full shifts. Making it at least 70% more expensive. Besides that, everything on that machine has to go up in size as well because you have 28 tons instead of 20."
JCB was the first manufacturer to equip an excavator with a fuel cell but, "such an excavator is 130% more expensive than a diesel-powered alternative. There's still a great future for ICEs for all sorts of reasons: they're reliable and people know how to work on them. A hydrogen powered engine is similarly priced to a diesel engine, while a fuel cell as well as batteries are times more expensive. The machine itself is just 10 to 15% more expensive because of the hydrogen tanks. If you make them run on hydrogen, they show the same torque characteristics and the same refuelling time. Hydrogen has three times more energy per litre than diesel."
In the same video, Paul McCarthy, chief engineer JCB Powertrain tells that a JCB generator with a diesel engine running on hydrogen first ran on 8 December 2020: "The engine block is the same, it's the cylinder head where all the changes have been made to move away from compression ignition to spark ignition similar to a petrol engine. With advanced boosting and perfect mixing, the low-end torque is similar to that of a diesel engine." Mounted on a JCB backhoe loader, five 5 kg H2 tanks provide sufficient energy for 10 hours of work.
Text continues underneath image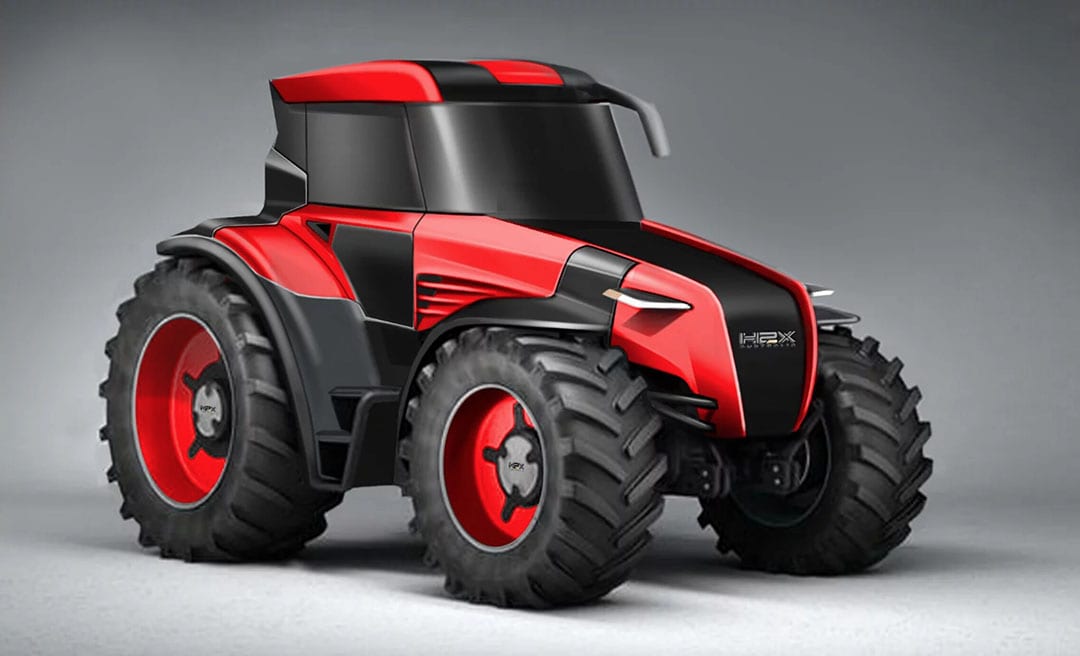 John Deere's point of view
In an interview with Future Farming in October 2019, Nicolai Tarasinski, manager advanced engineering at John Deere said: "While 20 years ago we really placed our bets on fuel cells as the (near) future technology, we now believe that fuel cells as well as biogas/methane powered tractors are too limited. You can't carry enough fuel for a day's work, and they will not reduce the CO2-footprint with the big steps that society wants to see. Power from fuel cells is similar to power from batteries."
On the occasion of revealing the GridCON2 platooning electric robot tractors swarm, Deere said "hydrogen as a power source still has too many constraints but that a fuel cell at the field border would allow to re-fuel the swarm in operation."
Engine manufacturer Deutz revealed its first hydrogen combustion engine half a year ago anticipating serial production in 2024. The six-cylinder 7.8 litres engine delivers 272 hp. Testing is underway in stationary settings such as generators. Yet, the manufacturer is also betting on electrically powered machines after taking over electric drive line company Torqeedo in 2017 and battery manufacturer Futavis in 2019. And acquiring a minority stake in fuel cell manufacturer Blue World Technologies late 2021 to initially use these for generators.
Text continues underneath image
H2Trac does bet on fuel cells
Talking to Paul van Ham, founder of H2Trac, he explained to Future Farming why his company ìs betting on fuel cell technology for their EOX175 tractor designed for Controlled Traffic Farming (CTF). "The choice for a fuel cell or ICE all depends on where you're coming from. I totally understand that combustion engine manufacturers opt for modified combustion engines instead of fuel cells. Yet, I believe that the development and innovation of combustion engines is more or less at its peak. From an efficiency point of view, only 30% of a diesel engine is converted into power. The remainder is transferred into heat. Whereas the efficiency of fuel cells is 50%. If you fuel a combustion engine with hydrogen or a mixture of hydrogen and diesel, you still 'loose' 25 to 30% of its original power. 200 hp on diesel doesn't mean you generate 200 hp on hydrogen or a mixture of hydrogen and diesel. That's why on dual fuel tractors such as the New Holland H2 Dual Power, the percentage of injected hydrogen is lower if the required power, the required torque, increases. Our EOX175 fuel cell tractor will initially be equipped with three or four 5 kg (200 l) hydrogen tanks each measuring 2 m long and 45 cm in diameter. This amount of hydrogen is sufficient to work half a day continuously with more tanks optionally available. The hydrogen is stored at 350 bar. This is the pressure commercial trucks and buses are using too. Passenger cars usually use 700 bar but that means you need specially cooled high-pressure pumps that are way more expensive. If you compare the 'energy contents' of diesel, electricity and hydrogen, then you're looking at 100 l diesel, 400 kWh and 18 kg hydrogen for the same milage or running hours. Current hydrogen prices amount to about € 12/kg but I expect these to go down rapidly to € 8 and € 6."
Text continues underneath image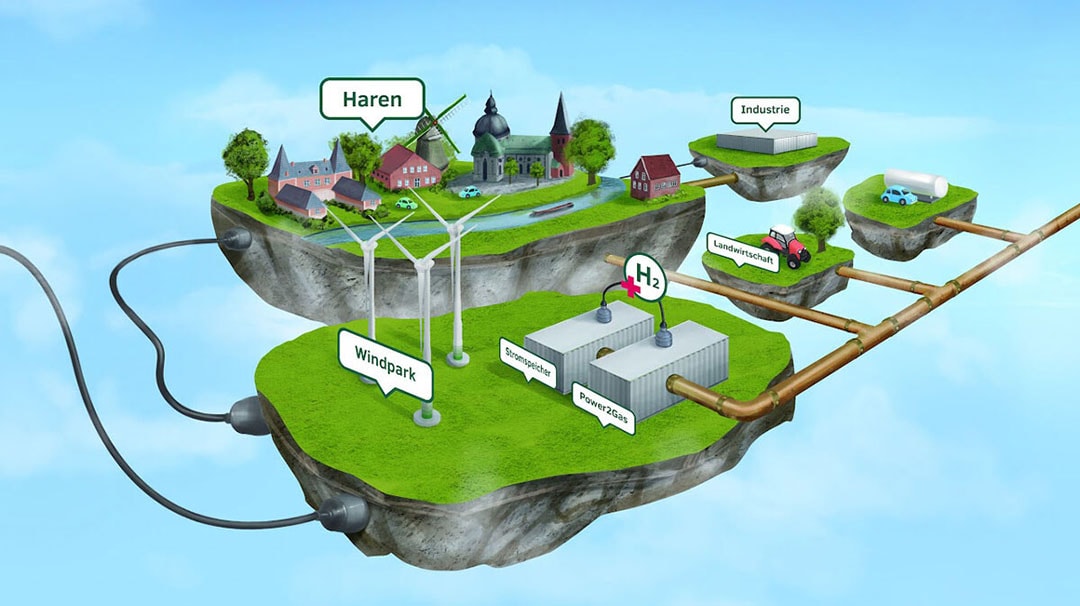 Dual fuel New Holland
Also of Dutch origin is the H2 Dual Power New Holland tractor developed by Blue Fuel Solutions in cooperation with New Holland on request of a Dutch contractor. This hybrid T5.140 AC uses its original Stage V diesel engine together with hydrogen injection in the air intake. Depending on the required power, up to 65% of hydrogen is injected with 8 bar. The more power is required, the lower the amount of added hydrogen is. The hydrogen is stored in five tanks on the cabin roof holding a total of 11.5 kg hydrogen pressurised at 350 bar. This equals 40 litres of diesel and helps reduce the CO2 emission with 35 to 65%. Blue Fuel Solutions offers a retrofit kit to convert any New Holland T5.140 AC model to a dual fuel tractor costing around € 70,000. Kits for other models are being considered but require rather drastic software changes.
As far as emissions are concerned, the dual fuel solutions still emit CO2 and NOx like any other internal combustion engine does. A purely hydrogen powered combustion engine doesn't emit CO2, but the engine still requires exhaust gas treatment for the NOx. A fuel cell doesn't produce any harmful emissions, only water (H2O) and oxygen (O2).